News
No comments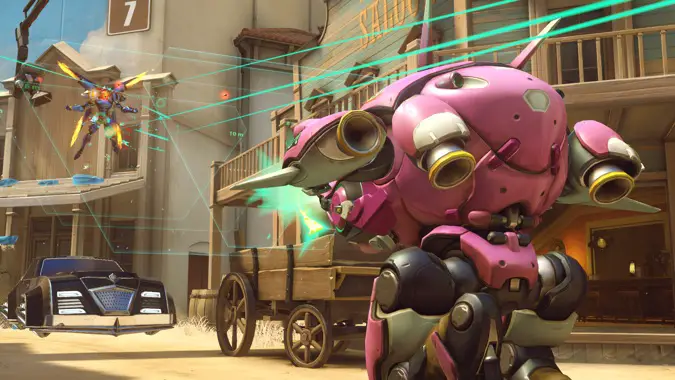 Overwatch PTR online with big hero balance changes
One player's "balance change" is another player's "nerf," but we'll go with Blizzard's verbiage here. The Overwatch PTR is now online with bug fixes, changes to leveling XP requirements, and hero balance tweaks. Blizzard plans to experiment with balance while the PTR is online, so the current list isn't necessarily the final list:
We don't typically have the time to try multiple configurations to our hero balance composition, but the extended length of this PTR gives us a unique opportunity. Throughout the PTR, we'll be continuously adjusting our heroes' stats, which will provide valuable data needed to make some tough decisions.
None of these changes should be considered final, and we'll continue to update this post as the PTR progresses. Please feel free to provide feedback throughout this test. We're looking forward to hearing what you think.
Hero Balance Changes
General
Dealing damage to non-players (like like Torbjorn's turrets or Symmetra's teleporter), no longer charges ultimate abilities
Ultimate costs have been increased by 25% for all heroes
D. Va
Mech health increased to 200 (formerly 100). Armor remains at 400
Movement speed while firing has been increased by 25%
Soldier: 76
Pulse Rifle

Bullet damage increased from 17 to 20
Maximum bullet spread Increased from 2.2 to 2.4
Ana
Nano Boost

No longer increases move speed
Mei
Blizzard

Ultimate cost has been increased by 15%
Lúcio
Amp It Up

Healing-per-second has been decreased by 10%
Zarya
Particle Barrier

Power gained from barriers decreased by 20%
Projected Barrier

Power gained from barriers decreased by 20%
Torbjörn
Scrap is now automatically generated over time
The amount of scrap collected from a fallen enemy has been decreased by 40%
Forge Hammer

Swing speed increased by 25%
Damage decreased by 27%
First: don't panic if your favorite heroes (or least favorite heroes) aren't getting the treatment you feel they deserve. Yes, I know, there's across the board Ultimate nerf, but don't panic because everything on this list could change. Instead, hop on the PTR to try them out — watch out for D.Va's 25%  mech speed buff — and give Blizzard your feedback. This list of hero changes will be updated as the PTR continues, so keep watching for the latest.
Blizzard is also testing some behind the scenes changes to reduce map load time and make it easier to roll out new content. If you've had issues with load times in the past, give the PTR a try and let Blizzard know if you've seen improvements. The rest of the patch notes — primarily detailing bug fixes and XP changes — are below.
SPECIAL REQUEST FROM BLIZZARD
In addition to the balance changes and bug fixes listed below, a big focus of this PTR will be to thoroughly test a variety of data-optimization improvements we've been working on behind-the-scenes. The nature of these improvements means that the size of this particular patch will be much larger than normal, but the upside is that the underlying changes will help us more efficiently introduce new content as well decrease the downtime players experience when loading maps.
On that note, if you've experienced lengthy load times in the past, we'd love it if you could spend a little time on the PTR and then share your experiences on the official forums. If your load times decrease, awesome—let us know! And if your load times increase, we'd like to hear about that too.
We're looking forward to your feedback, and thank you for helping us improve Overwatch
GENERAL UPDATES
General
Made several adjustments to the amount of experience needed to level

The amount of experience needed to reach each level between 1 and 13 remains unchanged
The amount of experience needed to reach each level between 14 and 100 has been slightly reduced
The amount of experience needed to reach each level after 100 is now constant (20k EXP) and will no longer reset with each promotion
Developer Comments: With the way our experience curve works right now, players can move quickly through the first 23 levels of each promotional tier (1-23, 101-123, 201-223, etc). This is because when a player is promoted every 100 levels, the experience curve essentially resets. While this reset has worked pretty well so far, it's also encouraged some people to stop playing the game altogether once they're promoted—the goal of this being to save those first 23 levels specifically for seasonal events. To help address this, the experience needed for all post-promotion levels (i.e. any level after 100) is now a consistent 20k and will no longer reset. The total experience required to gain 100 levels after a promotion is roughly unchanged, however. In addition, the total experience required to earn your first 100 levels (before your first promotion) has been slightly reduced.
HERO BALANCE CHANGES
We're making a number of significant hero adjustments this patch and will also be experimenting with different balance tweaks throughout the duration of the PTR.
If you'd like an up-to-date rundown of these changes as they're implemented, click here. We're going to be iterating on hero balance quite frequently over the next few weeks, and we'll be sure to share the latest information as the PTR progresses.
BUG FIXES
General
Fixed an issue that sometimes prevented the PC Client from closing properly, subsequently making the Battle.net application think the game was still running
Fixed a bug preventing players from receiving credit toward the Most Healing Done commendation
Fixed a bug preventing the fourth column on the friends list from being displayed properly
AI
Fixed a bug that caused the McCree bot to Combat Roll into the well on Ilios
Competitive Play
Fixed a bug that could cause overtime to continue indefinitely on Assault maps
Fixed a bug that could cause matches to begin with only 11 connected players
Heroes
Fixed a bug that prevented Ana's healing stats from showing up in the Career Profile page
Fixed a bug causing irregular placement of the pumpkin on Genji's "Pumpkin Carving" Highlight intro when certain skins were equipped
Fixed a bug preventing Mercy's staff from showing up in the "Guardian Angel" highlight intro when her Cobalt skin was equipped
Fixed a bug preventing Reaper's "R.I.P." victory pose from animating correctly when the game client isn't in focus
Fixed a bug preventing some of Tracer's voice lines from activating when her Punk skin is equipped
Maps
Fixed a bug on Watchpoint: Gibraltar that allowed players to reach an unintended perch near the final objective