Hearthstone
No comments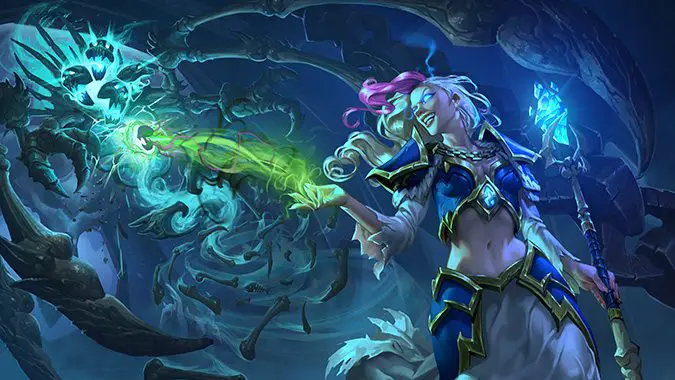 Hearthstone's Knights of the Frozen Throne music is an excellent listen for all
Okay, while I don't play a lot of Hearthstone, one of the things I love about Blizzard games is the music. The Knights of the Frozen Throne update brought not only the usuals like new cards and challenges, but also music for the new expansion.
The folks at Hearthhead have it, and as is almost always the case, it's pretty great. For instance, there's this little number:
Cantus
I really like how upbeat this one is for an expansion all about the Frozen Throne and the Lich King. It's bright and fun and pops quite a bit — I can imagine it's a nice change of pace what with all the darkness and evil everywhere.
But then there's the music that plays for the Lich King himself, and it's a pretty interesting one as well:
The Lich King
Hearthstone
music, but it changes things up a bit, adding a touch of menace in the form of some pretty aggressive notes. However, these suit the way the Lich King plays in 
Knights of the Frozen Throne
— he's a hard, aggressive opponent, so it makes sense his music should be too. Still, the twanging guitar and other familiar 
Hearthstone
elements are preserved.
The next song does a similar job of preserving that while going in a different direction:
Dancing Dead
This one, Dancing Dead, is much less driving than the Lich King's theme, but again showcases the preservation of Hearthstone signature elements in the music. The next two don't do that, but they do a great job of encapsulating the subject they're about while also managing to be reminiscent of older Warcraft games.
Arthas Menethil
This one hearkens back to Warcraft 3 to my ears, but has an independent existence at the same time. It really suits a version of Arthas who existed before he became a Death Knight  (much less the Lich King).
It's a fascinating piece of music — in some places, it is stirring and brassy, in others, it transitions into something more melancholic and elegiac, all without losing coherence. It does a good job of being music for the Paladin Prince of Lordaeron.
Knight of the Frozen Throne Theme
Finally there's the theme for the whole expansion, which draws heavy inspiration from the music inside Icecrown Citadel itself. I think it does a good job of condensing that music to its major themes and refrains. It manages to emphasize them among the familiar tunes of the card game, creating something that suits Hearthstone but also evokes the past at the same time.
So yeah, even if you're not much of a Hearthstone player, you can get a lot of enjoyment out of these clips, because the music is sounding really great.