Dehaka
Dehaka and new co-op missions come with StarCraft 2 patch notes
StarCraft 2's latest patch brings a big update with a new commander, missions, announcers, bug fixes, and more. First up is the latest co-op commander and announcer, Dehaka. He was announced during Gamescom and went up last week for purchase. You can collect essence to grow his power and mutate, customizing his powers to adapt...
---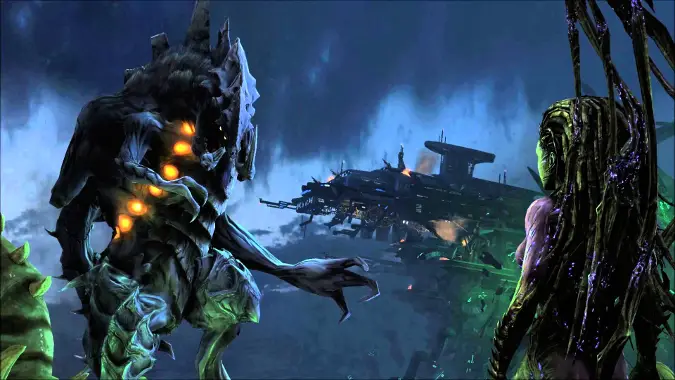 Commander Dehaka now available for purchase
Make sure to hide all your essence because Dehaka is now ready to harvest it. Announced just one week ago at Gamescom, the latest co-op commander coming to StarCraft 2 is now available for purchase for just $4.99 USD. Dehaka's gameplay heavily hinges on essence collection. The iconic zerg packleader evolves in size and strength...
---
Dehaka is the latest co-op commander in StarCraft 2
Just announced at Gamescom, Dehaka will be the newest Commander to join StarCraft 2 co-op mode. He's particularly customizable, growing stronger and mutating in different ways as he fights. His abilities are Leap: No surprise that this ability sends Dehaka leaping at his enemies from a distance. Intimidating Roar: Slows enemies' attack and movement speeds. Devour:...
---
D.Va live in latest Heroes of the Storm patch, plus new hero rotation
Happy patch day, Heroes of the Storm fans! Today's patch, live now, brings new hero D.Va  to the game, plus big reworks to Alarak and Tyrande (sadly killing my favorite owl build). For all the details, check out the patch notes at the bottom of this post. And because it's Tuesday, we have a new round of...
---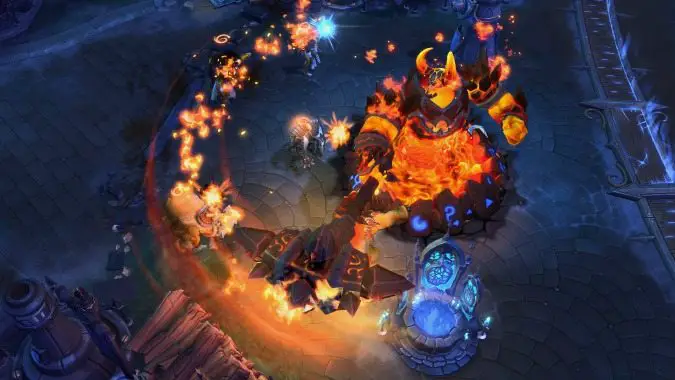 Heroes PTR updates with Ragnaros, Haunted Mines, and hero changes
Where do we even begin with a PTR patch like this? I guess we have to start with the elephant elemental lord in the room: Ragnaros has finally arrived. If you want give the firelord a try early, you have a week to test him out on the PTR before the patch goes live on December...
---
Try reworked Kharazim and Zeratul in this week's free rotation
In this week's Heroes of the Storm rotation, players who don't own Kharazim or Zeratul will get their first crack at these recently reworked heroes. (And if you want more hero revamps, Dehaka, who's due for some changes, is on sale this week.) Varian is also getting a price cut, dropping down to 10,000 gold for those...
---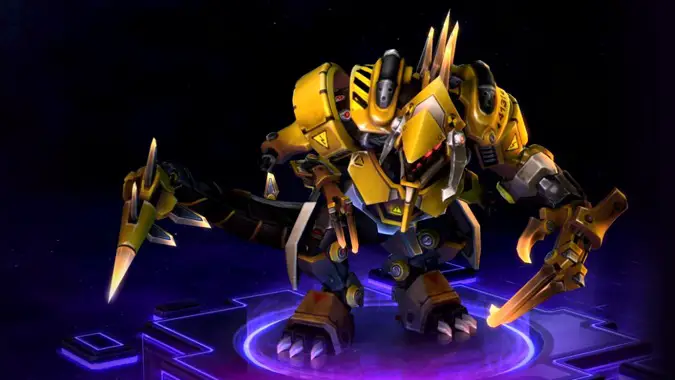 Tracer nerfs, Dehaka on rotation, and a mystery dragon in the Nexus
This week  in Heroes of the Storm we're welcoming relative Nexus newcomer Dehaka to the free rotation for the first time. While I have zero advice on playing Dehaka, I absolutely recommend playing him with his mecha skin. Just look at it! Glorious. Of course it's never all good news in the Nexus. While everyone's getting their...
---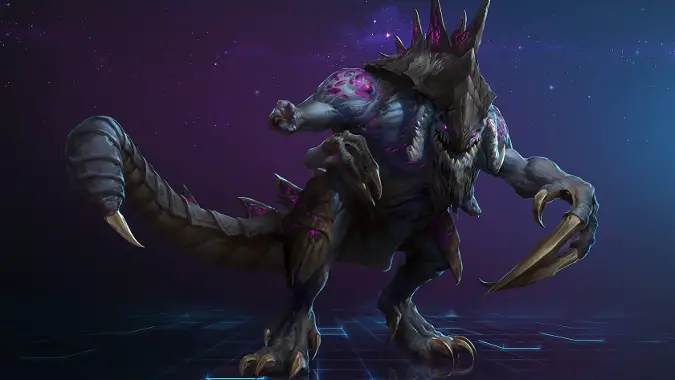 Dehaka spotlight showcases a tactical Warrior
Primal Zerg pack leader Dehaka arrives in Heroes of the Storm next week. His official spotlight displays a character who will undoubtedly establish himself not only as one tough cookie, but a true playmaker — someone who makes wonderful things happen in a coordinated team.
---
Latest Heroes of the Storm patch brings big hero changes
The latest Heroes of the Storm patch has just gone live on the PTR, and the patch notes are packed with updates — some of which we expected and some of which we didn't. On the expected side, this PTR includes new hero Dehaka, new map Lost Cavern, and changes to draft lobbies (including hero...
---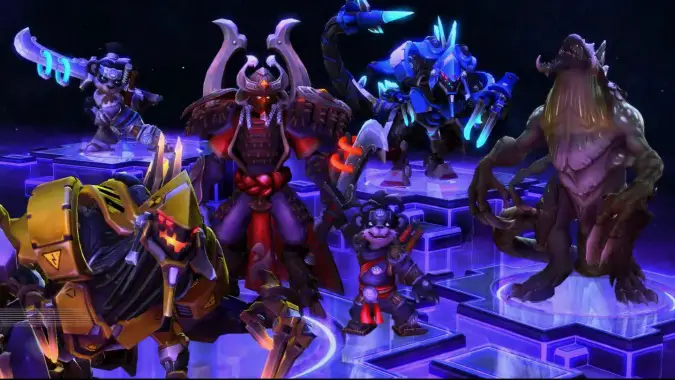 New Heroes skins video showcases Dehaka skins, Shadowpaw Li Li
Blizzard released a new In Development video today spotlighting the cosmetic choices for the upcoming StarCraft Warrior Dehaka as well as new looks for Li Li and Artanis. Usually these previews have more to spotlight, (more hero skins, additional mounts, holiday themes, etc.), but this one just focuses on the three heroes. On the upside,...
---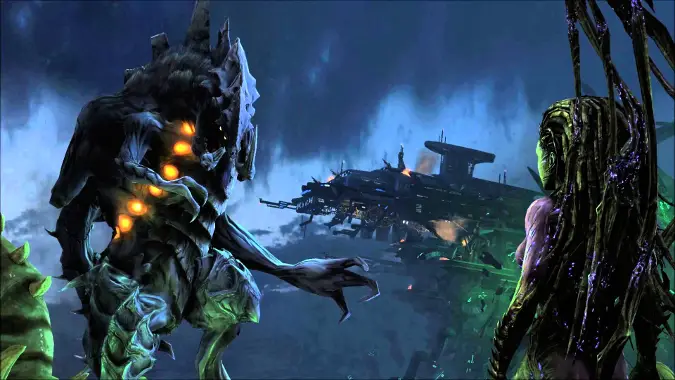 Confirmed, the Zerg Dehaka is heading to Heroes of the Storm
We said it was coming, and now it's been confirmed: Dehaka will be the next character to enter the Heroes of the Storm Nexus. Though Blizzard hasn't announced a date on Dehaka's arrival just yet, if the team keeps to the usual three to four week release schedule we'll see him next week or the...
---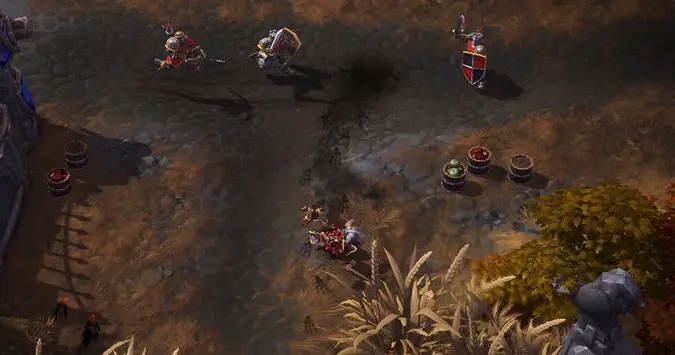 Dehaka likely the next hero in Heroes of the Storm
The Heroes team has been tweeting up a storm of teasers for upcoming content, including the image above. Internet sleuths have already been hard at work trying to determine what these clues mean and have reached conclusions ranging from a raptor mount with complementary Troll hero to a playable Arrakoa to the primal Aerg character Dehaka. Our...
---