Everything we know about Hearthstone's Witchwood expansion so far
Updated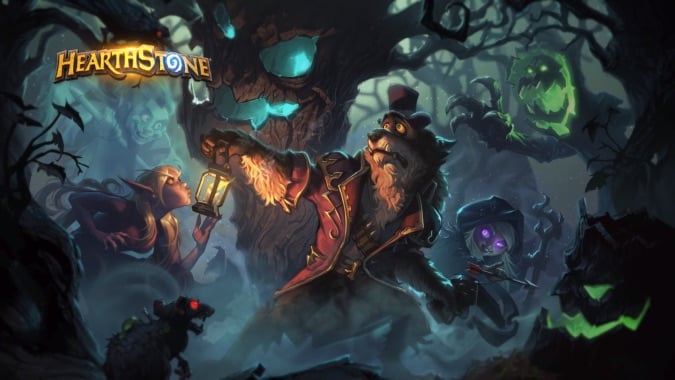 Update: We've added the most recently announced cards to the card list below.
After a week of teasing, we finally know what the next Hearthstone expansion will be: The Witchwood. It's been a bumpy ride to get here, as the Hearthstone dev team has gone one by one into the wild woods outside Irvine, California to track down the expansion… and each of them vanished.
But after journeying into the woods (and getting slightly lost), Dave Kosak, Ben Brode, and Ben Thompson managed to find some cool new Hearthstone cards. Yeah, just laying around on the ground. That's how Hearthstone expansions get made. Everybody knows that.
Collect 135 creepy new cards
It's a Hearthstone expansion, so of course there are new cards to collect. 135 of them, to be precise, but if you're like me, you'll get the first five or ten cards and then get nothing but duplicates until the next expansion. However, like Kobolds and Catacombs, logging on after the expansion launch will give you a free class Legendary card (as well as three free expansion packs), so you aren't completely doomed to fight only with common cards. (Only mostly doomed.)
And if you want to boost your card collection (or at least your dust collection), the Witchwood's pre-order offer is the best we've ever gotten. While previous pre-orders have sold 50 packs for $50, this sweetens the deal to 70 packs for $50. That's 350 cards, so someone who's much luckier than I am could theoretically pick up every card in the set right there. (Note: no one is actually that lucky, but it's still a heck of a lot of cards.)
The expansion is due out on or before April 30, so we have a bit of a wait ahead of us.
The Witchwood's cards so far
The expansion's card reveals so far have involved Ben Brode and Dave Kosak picking up cards on the ground and then fawning over them. Guys! You don't know where those cards have been! I suppose as long as no one's putting them in their mouths, it's probably fine, but still. Things on the ground in a creepy forest are not toys, kids! (Another note: Mitch disagrees with me on this point, but Mitch is wrong.)
But we were talking about the cards. The expansion adds two new card abilities: Echo and Rush. I find Echo particularly interesting, as it allows you to play a card repeatedly as long as you have the mana to do so — meaning low-cost cards could get new life late in game, where you can fill the board with duplicates. Rush is, to me, less interesting, but Ben Brode argues otherwise. It's essentially Charge, but instead of being able to attack anything, Rush minions can only attack minions on their first turn, which shakes up the strategy. We haven't seen many cards with either ability yet, so how much this will change things has yet to be determined.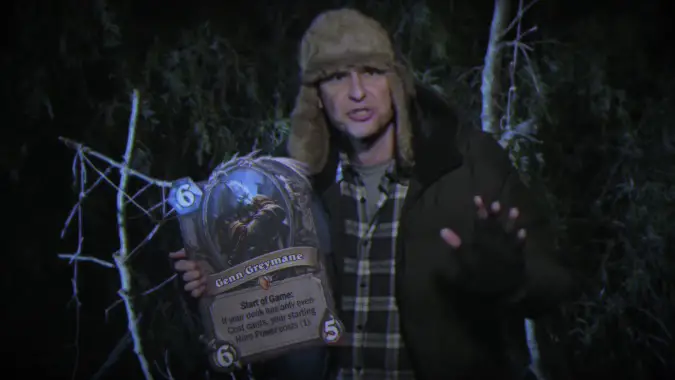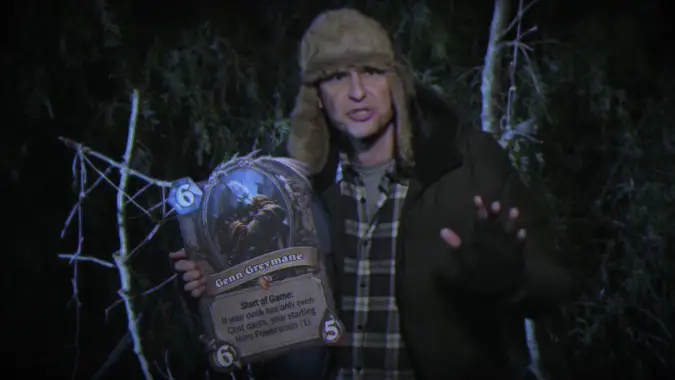 Now, on to the cards! We'll start out with cards using the expansion's interesting new even and odd mechanic:
Baku the Mooneater, a 9-mana neutral Legendary 7/8 Beast with an interesting ability: Start of Game: If your deck only has odd-Cost cards, upgrade your Hero Power. (Note: 0-cost cards count as even.) With the right deck (and the right class), the ability to immediately buff your Hero Power could be amazing.
Genn Greymane, Baku's counterpart. A 6-mana neutral Legendary 6/5 minion with an interesting ability of his own: Start of Game: If your deck only has even-Cost cards, your starting Hero Power costs (1). (Again, note that 0-cost cards count as even.) This means you won't have any 1-mana cards to open the game with, but since your Hero Power costs 1, you can jump right in with it.
Black Cat, a 3-mana 3/3 Mage minion with +1 spell damage and a Battlecry to draw a card if your deck has only odd-cost cards.
Glitter Moth, a 5-mana 4/4 Priest minion with a Battlecry that doubles the health of all your other minions if your deck has only odd-cost cards. While you can't have Divine Spirit in this deck, this card will still be crazy with Power Word Shield and Inner Fire.
Gloom Stag, a 5-mana 2/6 Druid minion that gains +2/+2 if your deck has only odd-cost cards. Basically a 5-mana 4/8. Not bad.
Murkspark Eel, a 2-mana 2/3 Shaman minion that does 2 damage to a target if your deck has only even-cost cards.
And now, the rest:
Azalina Soulthief, a 7-mana neutral Legendary 3/3 minion with a Battlecry that replaces your hand with a copy of your opponent's hand. This card strikes me as a real gamble — what if your opponent has a terrible hand? — but if your hand is low or empty, why not? Plus you'll know exactly what tricks your opponent has in store for you… which could lead to some interesting strategies.
Hagatha the Witch, an 8-mana Shaman Hero that we saw a small part of before the intrepid dev team started shouting "It's too OP!" and fled, with Kosak shouting "Nerf it! Nerf it! Nerf it to hell!" as they vanished into the forest. So I guess it's pretty powerful. Ben Brode explains that Hagatha is a dark Shaman and the Witch in the Witchwood, and the only Hero card in this set.
Phantom Militia, a 3-mana neutral 2/4 minion with Echo and Taunt. That's a respectable Taunt minion to get down early… but if you hold it until you have 6 mana or 9 mana, you could make a real shield wall of Taunt minions. While there are better 9-mana minions you could put in your deck, Echo minions seem to have utility whether you draw them early in the game or late in the game. I'm not sure if this will go in my decks or not, but it's an interesting concept.
Pumpkin Peasant, a 3-mana neutral 2/4 minion with Lifesteal… or is it? Each turn it's in your hand, its attack and defense stats swap, so you can decide whether you need a more defensive or a more aggressive board before you play it.
Unearthly Rage, a 4-mana 2/5 Warrior minion with rush and a Battlecry giving it +3 attack on its first turn. While it can't attack a hero, that makes for a beefy 5/5 minion you can use to help clear the board of threats.
We'll start getting more card reveals in a livestream at 11 a.m. PDT on March 26. Ugh. That is so much waiting.
Monster Hunt is an all-new single-player adventure
Kobolds and Catacombs had Dungeon Runs. The Witchwood will have Monster Hunts. In this mode, you'll play one of four Gilnean adventurers, stalking a quarry into the woods. As you defeat bosses, you'll collect new rewards and build out your deck with new cards. In short, it sounds exactly like a Dungeon Run, only with a new theme and new cards.
Monster Hunt will launch two weeks after the expansion itself, which means we may not see it until mid-May. I'm kind of disappointed by this, because I look forward to these adventures, but hopefully it will be worth the wait.
So it's off to the woods in Hearthstone! Start saving up your gold, folks, because next month we'll have a mountain of cards to collect.