We finally know everything about the OWL All-Star Weekend and those legendary skins
Updated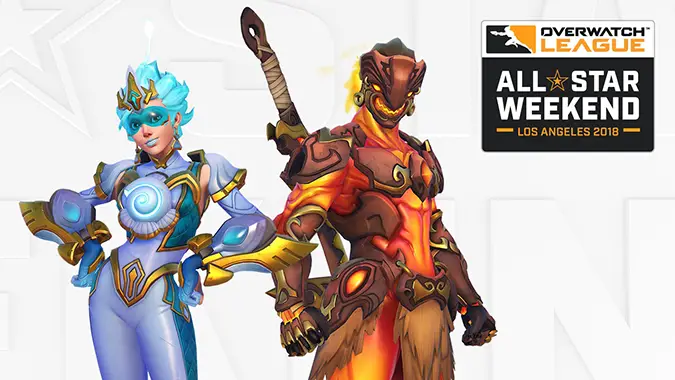 Update: The cost of those sweet legendary Tracer and Genji skins has just been reduced. You can purchase them for 200 OWL tokens, down from 300.
Blizzard has released all the details about the upcoming Overwatch League All-Star Weekend, including exactly how you can get your hands on those legendary Tracer and Genji skins that were shown off at the Overwatch League finals.
The OWL All-Star Weekend starts on August 25 with a set of custom game matches. This includes Lucioball, Mystery Heroes, Widowmaker 1v1, 6v6 Lockout Elimination, and some competitive matches between a mixture of casters and analysts. On August 26, the proper All-Star games will begin with a full five-map match and a requirement that all 18 players on each team compete in at least one map.
The two legendary skins for Tracer and Genji will be available for 300 OWL tokens starting August 17. They're only available for a limited time, however — they'll go away on August 27, so make sure to grab them while you can.
As a reminder, the Atlantic starting team consists of fan favorite players like Bang "Jjonak" Seong-Hyun, Kim "Pine" Do-Hyeon, and Park "Saebyeolbe" Jong-Ryeol, and others. Ji-hyeok "Birdring" Kim was set to play for the Atlantic team but will be replaced by Joon-yeong "Profit" Park. The Pacific starting team brings with it "Scott "Custa" Kennedy, Kim "Geguri" Se-Yeon, and Kim "Fleta" Byung-Sun, and more. The recently retired player, Brandon "Seagull" Larned, is also on the team, but recently said he won't be able to play.
If you want to see the rule breakdown for each of Saturday's custom games, you can read about them on the OWL site.
I'm interested in seeing the teams play Mystery Heroes. It's a bonkers mode, and one that can and will just give one team three Bastions and a Mercy. How do professional players react to such unfair odds? And that's not to mention the tension that will be in the Widowmaker 1v1 battles. Usually a Widowmaker duel, while fun to watch, isn't the entire point of the game — there's also five other heroes making calls and pressuring the enemy team. Now imagine Fleta simply staring down Pine on the game's Castillo map. It's going to be an amazing thing to watch.