Diablo 4's world bosses are ready and able to smash player faces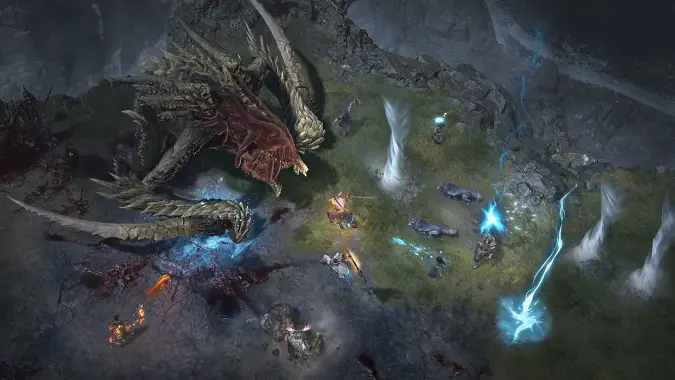 Diablo 4's BlizzCon announcements have been chock full of feature details — both things new to D4 and returning from previous titles in the franchise. World bosses appearing in open world events are one of the multiplayer-friendly additions. Lead Game Designer Jesse McCree describes the events as "certain points in the game [where] you'll come across…some truly gigantic horrific monster, and it's gonna take more than the people in your party to fight it."
Blizzard dedicated some time in the Diablo 4: Systems & Features panel to world bosses. They're meant to be huge, menacing, and ready to murder a whole heap of players — they're so big that the devs had to "pull the camera out just to frame the encounter activity." Ashava the Pestilent is available to fight in the floor demo and was included in the gameplay video.

The dev team does not mean for players to work through these confrontations with the standard toolkit. New mechanics are included to increase survivability and boss takedown. Unique evade moves are part of each class, adding a short-distance dash to move the character away from danger, then bounce back and attack (think
Diablo 3's
Wizard Teleport
).
They've also included a system called Stagger, where players will have different stagger effects that they can bring to the encounters. These effects will stack against the world boss target, eventually maxing the Stagger bar. Each world boss will have a different reaction to max Stagger. With Ashava, max Stagger results in one of the boss' arm blades snapping off, creating "safe" areas on the battlefield and reducing damage output. Hitting max Stagger multiple times results in Ashava loses both arm blades, making the rest of the fight much more survivable.
World bosses are one example of Blizzard embracing the "large and open" concept. They are proving to be another way in which the devs are reminding the players that Sanctuary is no longer safe. People trying the encounters out in the con floor demos have been enjoying them so far, so world bosses are another inclusion to look forward to whenever D4 releases.