The decks you need to win Hearthstone's Battle of Tol Barad Tavern Brawl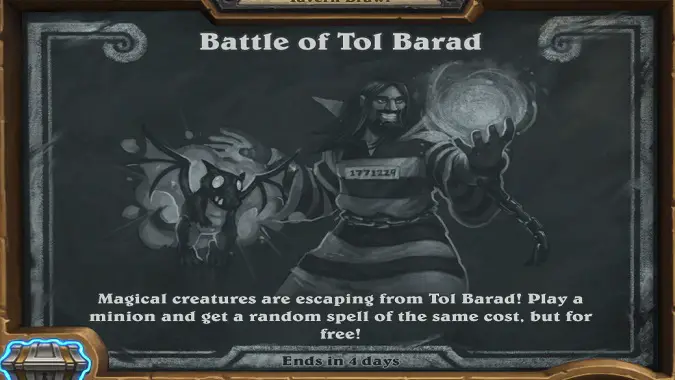 This week's Hearthstone Tavern Brawl takes us to the Battle of Tol Barad. In World of Warcraft, Tol Barad is a world PVP zone where the Alliance and Horde battle over the island  prison and its magical inhabitants. In the Brawl, the magical creatures are escaping and it's up to you to restore order.
This will be this Tavern Brawl's fourth time in the Brawl rotation, but the first time it's been seen in over three years.
Tavern Brawl basics
Name: Battle of Tol Barad
Description: Magical creatures are escaping from Tol Barad! Play a minion and get a random spell of the same cost, but for free!
Fun level: 8/10
Difficulty: 6/10
Replayability: 8/10
Format: Wild
Type: PVP
Deck: Constructed
Rewards: 1 Classic pack
This big change this week is the requirement of a constructed deck. The size of your  collection will matter this time around. The random element of this Tavern Brawl comes from the generated spells, but you maintain a measure of control. The spell generated will have the same mana cost as the minion played, but will cost you zero mana to cast. However, the spell can come from any class, giving you a wide range of outcomes.
How to win the Battle of Tol Barad Tavern Brawl
Constructed Brawls are the most fun the first day or so. After that, players discover the most powerful lists and the Brawl falls into a similar meta structure as the Ladder.
You want to play minions on curve as often as possible. This means playing a minion on each turn and one with a cost close to your maximum mana. You want a good variety of mana costs in your deck. Having nothing but a bunch of small minions will leave you with a handful of low cost spells.
Play your minions first to generate more zero costs spells. You may get just the buff or removal you need to resolve your opponent's board. Rogue is a strong Hero this week as all these zero cost spells help them activate their many combos.
Loatheb is a great minion to include in any deck. He'll make those zero cost spells your opponent has cost five mana. Millhouse Manastorm is another good addition. Since the spells are zero cost anyway, you don't have to worry about the mana cost reduction. Unless you're running a Quest or a Galakrond deck, don't put many spells in your deck. Let the minions generate them. Be careful about overcommitting to the board. Your opponent can generate spells from any class. AOE is plentiful, if unreliable.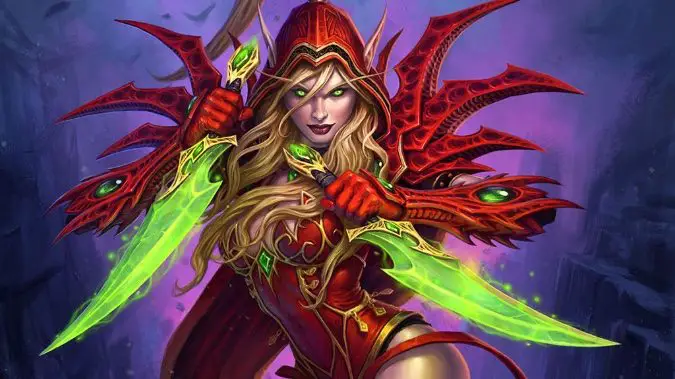 My homegrown Battle of Tol Barad Brawl decks
Galakrond Rogue
Deck code: AAEBAYO6AgaSlwOnqAPjtAPHtgPSuQPLwAMM+L0C3NECx/gCtJEDj5cD+5oD9acDua4D/q4Dqq8Dzq8D0LkDAA==
The idea behind this deck is to generate a bunch of spells with Lackeys. You've got the big Heistbaron play plus Galakrond. I also included the Invoke spells to ensure you get an upgraded Galakrond.
Bomb Warrior
Deck code: AAEBAYwWHtQE3gXXBuUPnhCbwgLJ0wLq5gLN7wK09gKS+AKz/ALx/AKggAP1gAOXlAOalAOSnwOfoQP8owOCqAOIqAPYrQPfrQPosAOCsQOktgOrtgO+uQPzuwMAAA==
A viewer on last week's stream shared a Bomb Warrior with me and I've been in a Bomb Warrior groove ever since. This is the Bomb Warrior I made for the Brawl. It does okay — just hope your opponent doesn't generate too many healing spells.
Even Shaman
Deck code: AAEBAaoIBiC9AdcPlrICzfQCnaMDDNMBvgayFLUU+6oClO8CipQDoaED2qUD8qUD+aUDrK0DAA==
This is a modified version of the popular Even Shaman from the Wild Ladder. I left in the key spells of Totemic Might and Totemic Surge. Splitting Axe is a key Epic. You can get by with just one assuming you draw it early enough.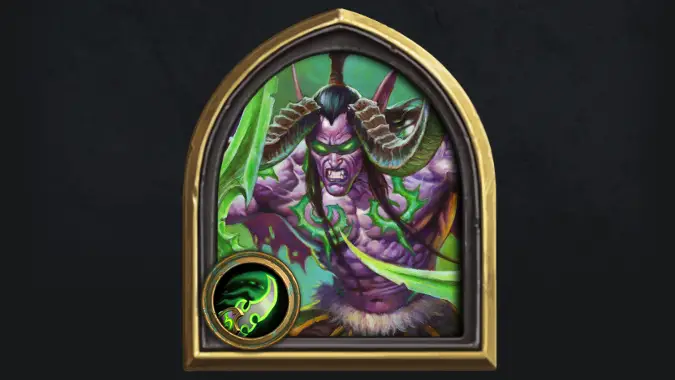 Great Battle of Tol Barad decks from the community
Tempo Demon Hunter
This deck aims to pressure your opponent from turn one and never let up. There are plenty of cheap cards to take a Questing Adventure from zero to hero in one turn.
Budget Hunter
This is the cheapest competitive deck I could find. The only Legendary is the Quest. If you don't have that, sub in a big beast. This is a standard zoo type strategy: flood the board with minions, hope you get some buff spells and that your opponent doesn't get much AOE.
Deathrattle Rogue
Deathrattles and Giants power this deck from Hearthpwn user JakeDaSnake78. He even includes helpful card replacements for the more expensive cards in the list.
Quest Mage
Quest Mage is a terror on the Wild ladder, but its inclusion here is a little surprising. It includes more spells than I'd like to see in a deck for this Brawl, but once Flamewaker gets going, he's hard to stop.
More Battle of Tol Barad decks
One of these decks should see you through. If you find another great deck, share it with us in the comments.
If you have a smaller collection, try the Budget Hunter deck. It can be challenging, but keep it up and hope for some good RNG. And if none of these decks work for you, check for more community decks on Hearthstone Top Decks. There are more Tavern Brawl decks being added by the hour.
Overall, this is an enjoyable Brawl. It still has some random aspects, but also good tactical decisions to make your play feel impactful. Good luck getting this week's Classic pack!