WoW
May 6, 2020 4:00 pm CT
When is WoW's Shadowlands expansion coming out? Fall 2020!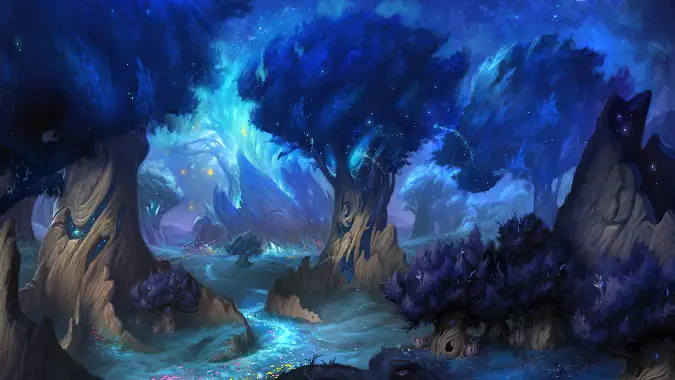 World of Warcraft Shadowlands is in its closed Alpha, and people have already seen gameplay from the Bastion and Revendreth zones featuring the Kyrian and Venthyr factions. People are understandably eager for the expansion, since Battle for Azeroth has been stated to be finished and we know there's no new content for the game until the Shadowlands pre-expansion patch drops. With a great many players currently stuck in their homes — in part due to the COVID-19 crisis and enforced Stay at Home orders and Blizzard's Winds of Wisdom and Impressive Influence buffs — we're all wondering when we're going to get this expansion. Game Director Ion Hazzikostas said it won't be delayed, but he didn't say when it will be out. So when is it?
The short answer is we don't know, which is both not particularly informative and also not a lot of fun. But truly, we don't know. The most recent Activision-Blizzard earnings call saying Q4 of 2020, and the pre-order for Shadowlands saying 'on or before December 31st', it seems likely the game will be out later in the year than its predecessors have. The most recent panel from Blizzard also confirmed Fall 2020, but remember "fall" technically stretches until December 21st.
Based on the last few expansion launches, in fact, I would have expected Shadowlands by late summer at the earliest. Legion launched on August 30, 2016, while Battle for Azeroth launched on August 14, 2018. If things were normal right now, I'd be comfortable with this prediction — it works out to about two years per expansion and I'd feel comfortable predicting something similar for this next expansion, with patch 8.3 getting a solid four or five months of life before a pre-expansion patch window of about a month and then Shadowlands launching in August or September of 2020. But things aren't normal — Blizzard shifted to a work at home footing due to the pandemic, and while Ion stated that they were happy with how that's progressed, it was still a pretty big shift.
With the Earning's Call saying Q4, I'm now thinking late November. Not an ideal situation, but with the pre-expansion changes coming in late October according to that formula, we'll be in a relatively long period of no new content. Not as long as the Warlords of Draenor or Mists of Pandaria ones, but noticeable. Based on the Alpha, there is a lot of content in Shadowlands. The zones are large and varied, with quests that take you through them as you level and then return you to them once you're at max level, and there's Soulbinding, Torghast and a lot more to test before it all goes live.
It is reasonable to expect this Alpha test to go to Beta in June or July, and I'm leaning towards July, with a long test period lasting three months taking it into October. I now expect we'll get a 9.0.1 patch in September or October which will debut the level squish and leveling revamp giving players the chance to get their alts to 50 before the coming of Shadowlands content, for people who want to switch alts — a lot of players may have decided to roll up a new Death Knight now that Allied Races and Pandaren can be DK's, and Demon Hunters won't be limited to one per server anymore.
It's all speculation, of course — I really feel like I should emphasize that we just don't know — but it fits with the pattern for the last few expansions as well as the Earnings Call and the current work from home situation. I feel like we can say that Shadowlands won't be out until November of 2020.