When will Diablo 3 Season 21 end?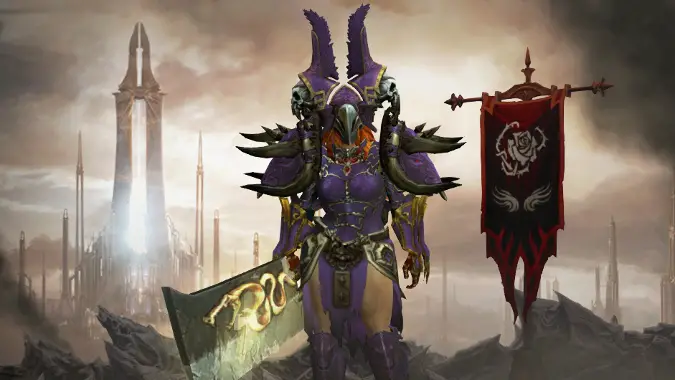 Diablo 3 Season 21 begins on July 3rd. So speculating on when it will end is a little premature, but we're fortunate enough to have reasonably good data of the general length of Seasons over the past few years. Before I go into detail, I'll make my guess here. Based on the length of the past few Seasons, I'd put the end of date in late October: my guess is that Season 21 will end Sunday, October 11, 2020.
If you want the date, there it is. If you want to know why that's the date, I'll explain my reasoning below.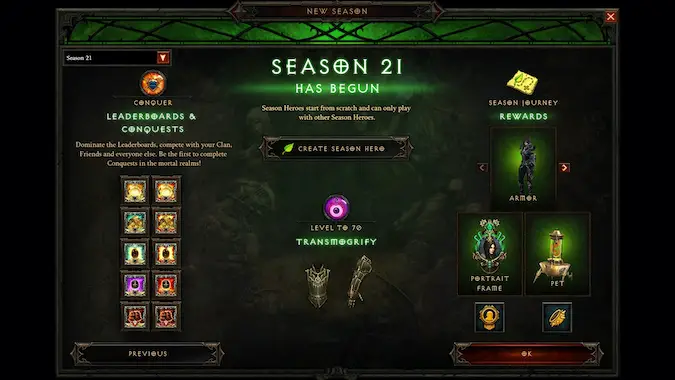 Predicting Season end dates is all math
Both Season 19 and Season 20 were exactly 14 weeks and 2 days in length: Season 19 lasted from November 22, 2019 until March 1 and Season 20 lasted from March 13 to June 21 of this year. Both Seasons ended on a Sunday, as did Season 18 before them and Season 17 before that.
In general, Seasons start on a Friday and end on a Sunday, and while they haven't all been 14 weeks and 2 days like Seasons 19 and 20, they do tend to keep to a certain number of weeks. Seasons have ranged from 11 to 16 weeks going all the way back to Season 13 in February of 2018. Season 13 started on a Saturday and ended on a Monday instead of starting on a Friday and ending on a Sunday, so it wasn't quite like more modern Seasons, but it was exactly 14 weeks and 2 days long, just as Season 19 and 20 were.
Season 14 was 13 weeks and 2 days, Season 15 was 15 weeks and 2 days. Season 16 was a very long Season due to delays in testing, and ended up at 16 weeks and 2 days, while Season 17 was the same length as Season 14 at 13 weeks and 2 days. Season 18 was the shortest Season since Season 9's 10 week run, coming in at 11 weeks and 2 days. Seasons 19 and 20 both coming in at 14 weeks, I feel it's safe to estimate that the target will be anywhere between 13 and 16 weeks with 14 weeks feeling the most likely — it definitely seems to be what Blizzard's aiming for.
Since the Season is starting on July 3 (a Friday, like the past few Seasons) I just added 14 weeks and 2 days to come to my estimate of October 11. That estimate requires Season 21 to be the same length as Seasons 19 and 20. If the Season is a week shorter, it will end on October 4, and if it's a week longer, it'll end on October 18, but I'm sticking with my guess of October 11.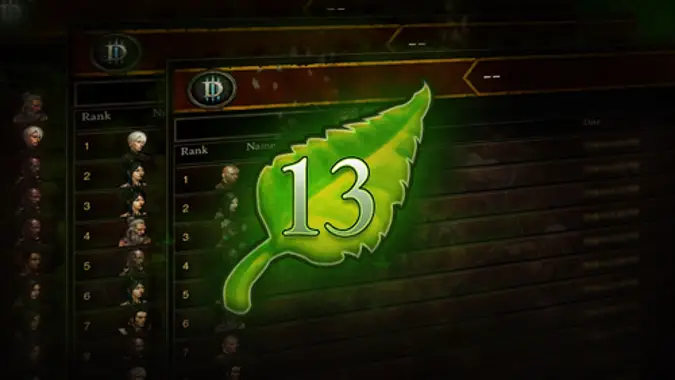 All we have are guesses, but they're rooted in numbers
Now, of course, this is merely a best guess made consulting the length of Seasons since we entered the era of Themed Seasons, assuming that the Season will start on a Friday and end on a Sunday to keep the X weeks, 2 days formula that every Season since Season 13 has had.
If there's a delay due to PTR testing or some other reason that requires more lead time for Season 22, then Season 21 could go as long as 16 or more weeks long — we've seen even longer seasons in the past, but they were before Blizzard added themes and started Seasons on a (slightly) more consistent schedule. Back in 2015, Season 3 was just over 19 weeks and 2 days long and Season 4 was nearly 18 weeks long. But these Seasons were far enough back that I feel comfortable focusing on the newer Seasons first and thus estimating that Diablo 3 Season 21 with be 14 weeks and 2 days and will end on October 11, 2020.
So there you have it. We won't know for sure until we get there, of course, but I feel pretty good about this one. We've poured over every Season and looked at the numbers, and I think we've got solid reasons to expect the end of Season 21 when we do.