When will Diablo 3 Season 21 end?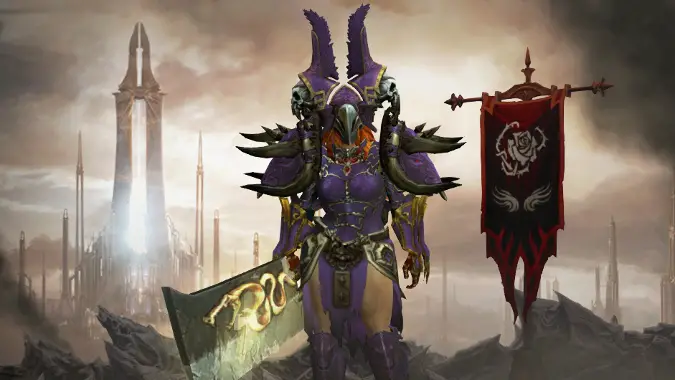 Diablo 3 Season 21 began on July 3rd. Ordinarily, I'd sit down with previous Seasons, look at their start and end dates, and extrapolate an ending date for Season 21 based on that information. In fact, that's exactly what I did when I first wrote this post — comparing the start and end dates of the previous Seasons going back to Season 14, and especially the last few Seasons, I'd made an educated guess that Season 21 was going to end on October 11.
However, with the extended two week PTR for Season 22 having started on October 1 and running through October 15, it would be impossible for Season 21 to end that soon. This isn't something wholly unprecedented. PTR activity has delayed the end of a Season and extended its life before, as we'll see as we go over the length of previous Seasons.
Right now, we estimate that Season 21 will wrap up on Sunday, October 25, but the results of PTR testing could change that. Let's take a look at what we know.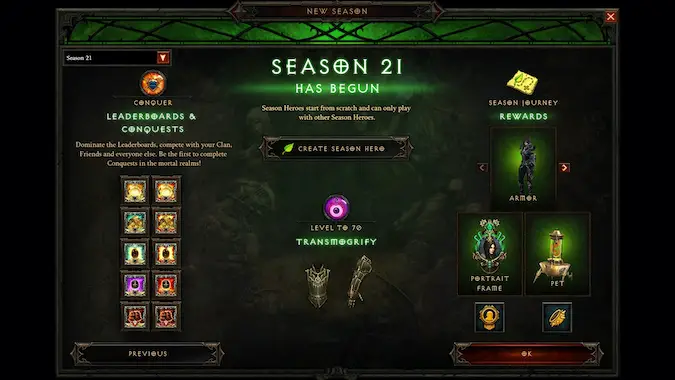 Predicting Season end dates is all math
Both Season 19 and Season 20 were exactly 14 weeks and 2 days in length: Season 19 lasted from November 22, 2019 until March 1 and Season 20 lasted from March 13 to June 21 of this year. Both Seasons ended on a Sunday, as did Season 18 before them and Season 17 before that.
In general, Seasons start on a Friday and end on a Sunday, and while they haven't all been 14 weeks and 2 days like Seasons 19 and 20, they do tend to keep to a certain number of weeks. Seasons have ranged from 11 to 16 weeks going all the way back to Season 13 in February of 2018. Season 13 started on a Saturday and ended on a Monday instead of starting on a Friday and ending on a Sunday, so it wasn't quite like more modern Seasons, but it was exactly 14 weeks and 2 days long, just as Season 19 and 20 were.
Season 14 was 13 weeks and 2 days, Season 15 was 15 weeks and 2 days. Season 16 was a very long Season due to delays in testing, and ended up at 16 weeks and 2 days, while Season 17 was the same length as Season 14 at 13 weeks and 2 days. Season 18 was the shortest Season since Season 9's 10 week run, coming in at 11 weeks and 2 days. Seasons 19 and 20 both coming in at 14 weeks, I feel it's safe to estimate that the target will be anywhere between 13 and 16 weeks. With the extended PTR, I would definitely revise my original estimate up to 16 weeks or longer, depending on how well the PTR for Season 22 works out. If there are no major bugs or issues, 16 weeks. If there are, I'd be more comfortable going up to 18 weeks, which would make it an extremely long Season — the longest of the past two years.
Since the Season started on July 3 (a Friday, like the past few Seasons) I just added 14 weeks and 2 days to come to my estimate of October 11. That estimate requires Season 21 to be the same length as Seasons 19 and 20. Since that no longer seems likely, an estimate of 16 weeks for Season 21 ends it on October 25. and an estimate of 18 weeks (the worst case scenario for testing Season 22 on the PTR) gives us an end date of November 8.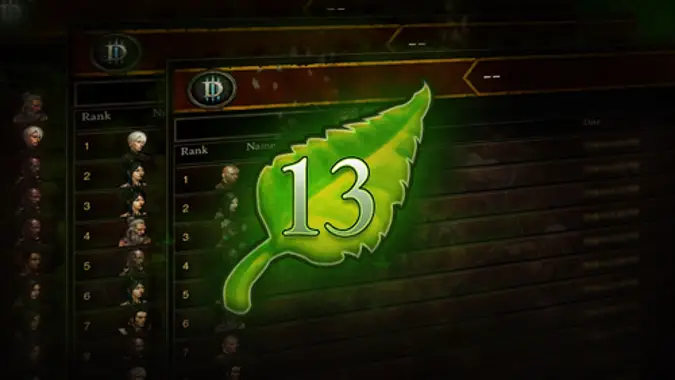 All we have are guesses, but they're rooted in numbers
Now, of course, this is merely a best guess made consulting the length of Seasons since we entered the era of Themed Seasons, assuming that the Season will start on a Friday and end on a Sunday to keep the X weeks, 2 days formula that every Season since Season 13 has had.
If there's a delay due to PTR testing or some other reason that requires more lead time for Season 22, then Season 21 could go as long as 16 or more weeks long — we've seen even longer seasons in the past, but they were before Blizzard added themes and started Seasons on a (slightly) more consistent schedule. Back in 2015, Season 3 was just over 19 weeks and 2 days long and Season 4 was nearly 18 weeks long.
With the PTR running until October 15, a length of 16 weeks feels like the best possible outcome at this point. I'm comfortable proposing that as the most likely outcome — and therefore proposing an end date for Season 21 of October 25 — but with the caveat that if we see significant bugs or glitches that need more time to address, we could easily be looking at an 18 week Season 21 and an end date of November 8.
I'd been really happy with my proposed date, but time and plans make fools of us all. With the PTR going until October 15, an end date of October 25 will only work if Blizzard makes an end date announcement fairly soon. Without one, November 8 becomes far more likely.
Originally published 6/22/2020, updated 10/6/2020