WoW
Apr 16, 2021 7:00 pm CT
There's just a week left to unlock Daisy the adorable sloth battle pet by donating to Doctors Without Borders!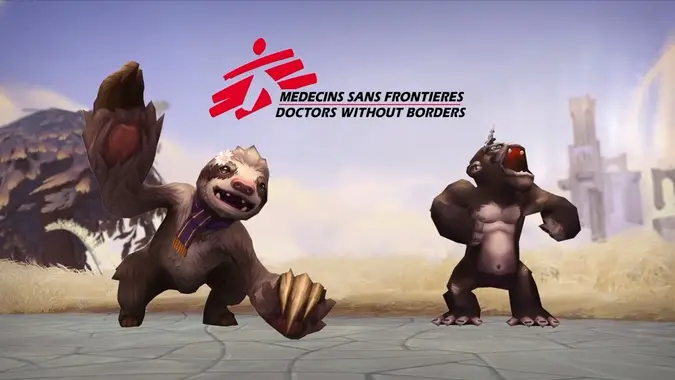 Do you like adorable sloths? How about supporting great causes? If you said yes (and we really hope you did, just on a general level), we're happy to let you know donations for the next World of Warcraft charity pet are now underway, with the proceeds going to support Doctors Without Borders!
First announced during BlizzConline, this looks to be the new way that Blizzard will be handling their charity events. There's a donation goal of $500,000 and a stretch goal of an additional $500,000. Once the first goal is reached then all Warcraft players will unlock the monkey battle pet Bananas. If the additional stretch goal is reached then everyone gets the cuddly sloth Daisy. If these goals are met all players get the pets, no matter whether or not you donated to the event!
Currently, the campaign is up to $921,708, so we've unlocked Bananas! The monkey invasion of Azeroth has begun!
You can claim your Bananas pet by going to the Blizzard pet shop. Once claimed Bananas should just appear in your pet journal. In a few cases players haven't been seeing their Bananas appear in game, Blizzard has provided an easy fix that should ensure that you can spend quality time with your new monkey pal.
Completely exit the game by closing the WoW client – don't just log out of your realm.
Restart the game by pressing the PLAY button in the Battle.net launcher.
Once you've logged into the game, Bananas should now be appearing in your pet collection.

There's just over a week left to donate to unlock Daisy the sloth, and we still need to see roughly $125,000 come in to do so. Just like a real sloth she's sure taking her time getting anywhere. Charity drives will typically have an eleventh-hour uptick of donations as people realize that it's their last chance to contribute. Let's hope that holds true with this one so we can all have adorable fuzzy sloth backpacks!
HOW TO DONATE
Navigate to the MSF DonorDrive site and select the "Donate To This Event" button at the top of the page.
Fill in your Donation Amount and select your currency type from the drop down next to it.
For USD only—Choose PayPal, Amazon Pay, or credit card as payment method.
For all other currencies click "Next" and enter credit card billing and payment information.
Click "Pay" to process your donation.
Clicking the "Next" button at the bottom will process your donation. As an additional option, donors can choose to help pay the site processing fee, ensuring that all of your donation goes directly to the COVID-19 Crisis Fund.
Return to the page as often as you like to keep tabs on the goal progress or to donate as many times as you like.
If you're a streamer and you want to run your own fundraising event as part of your stream they've also included a way to contribute by starting your own micro-event that feeds into this. There are some streamers out there with giant communities that could make this fundraising goal disappear in a matter of days. I know that past charity events like the Pink Mercy skin in Overwatch raised over 10 million dollars, so a goal of only a million seems like a very reachable target.
I love when we get to see how generous the Warcraft community can be with events like this. It really shows that no matter the faction you play or where you are in the world, that we're all one big family.
Originally published 3/18/2021, updated 4/16/2021