A mystery card back has been added to Hearthstone, and the community has taken to secret hunting
A new card back named "Mysteries of the Phoenix" has been added to Hearthstone, but no one knows quite how to obtain it. It's a reward from a new achievement, aptly named "???", which asks players simply to "Solve the mysteries hidden throughout the Barrens." But what are the mysteries of the Barrens? The only hint the achievement provides is a progress bar that reads 0/4 — implying that there are four mysteries to solve in order to earn this new card back.
Needless to say, the community has already started their secret hunting — and Hearthstone Game Designer Chadd Nervig (aka Celestalon) has encouraged them to do so:
If you are attempting to solve the mysteries hidden throughout the Barrens, you'll probably want to collaborate with other like-minded individuals.

The WoW Secret Hunting Discord community are very experienced at this sort of thing. Gather there.https://t.co/dX63QPzcgk

— Celestalon🎁🌙 #ABetterABK💙 (@Celestalon) May 4, 2021
He's also clarified that WoW is not required or involved at all, so all of this secret hunting will be happening in Hearthstone.
With that said, what could the mysteries be? Let's take a look at what little clues we have so far.
You won't need all of the Barrens cards to complete it. Celestalon confirmed on Twitter that players won't need a complete card collection to complete the achievement.
It's blood elf themed. That is the most obvious bit. Forged in the Barrens is a Horde-themed expansion as a whole, so it seems that we need to look into whatever elements related to blood elves we can find on the new cards, heroes, and whatever other elements.
It was designed for a promotion. Players in China were prompted to design card backs for Hearthstone, and a few winners would be added to the game. This card design, which was titled "Kael'thas Sunstrider" by the artist who made it, liguang, was one of the winners.
It's probably going to take a while to be uncovered. Based on Celestalon's teasing, which compels players to gather in a secret-finding community — as well as his promises that the devs won't give any clues whatsoever, even if the journey may be long, and arduous — we can infer that it won't be trivial to uncover the four mysteries.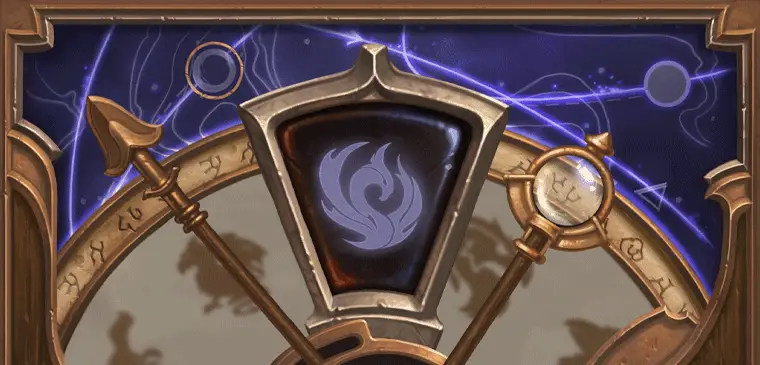 A lot of players are wondering whether something is hidden in the new Barrens-themed board. Cool secrets being hidden in those boards aren't anything new: perhaps the most famous secret was the hidden theme song from the Savior of Uldum trailer, which you can play on the Uldum board with a specific sequence of clicks. I'd venture to guess that something similar, that requires interactions with board elements in a specific order, might be one of the mysteries.
This secret may also involve (or mimic) other achievements in the game: some of the mysteries might be solved by performing specific actions during games. For instance: dealing damage (perhaps even lethal damage) with a specific card, under specific conditions. Maybe some of the mysteries could be completed on any regular Hearthstone match — although, depending on how you read Celestalon's hint about the secrets "not requiring a complete card collection," using specific cards might be ruled out.
I'd guess that another of the mysteries could come from Hearthstone's episodic single-player content, Book of Mercenaries, which is currently being released. Perhaps it will require you to beat the game mode with a number of heroes, or a number of times, or using some specific, not-entirely-obvious strategy.
Finally, I'd also guess that Battlegrounds mode might be involved — especially since the latest big update to the game has been the addition of Quilboars to that game mode. Maybe you will need to play, or win, a Battlegrounds match using a specific hero and completing some hard-to-achieve objective with them.
Regardless of what the mysteries are, the WoW Secret Finding Discord is already on the case! We will keep you updated, junior sleuth.