The decks you need to win the Clockwork Card Dealer – Standard Hearthstone Tavern Brawl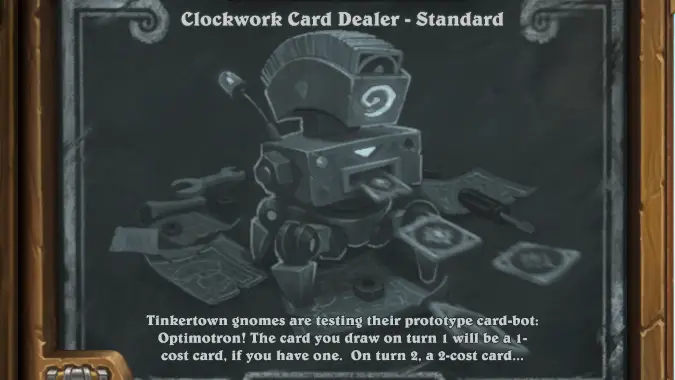 The robots take over in this week's Clockwork Card Dealer – Standard Hearthstone Tavern Brawl. The Innkeeper and Bartender Bob never knew what hit them. The robots burst into the Tavern and said "Hasta la vista, baby" as they tossed them out and replaced them with Clockwork Golems. But never fear, my friends, while Bartender Bob muttered something about the spicy pretzel mustard, the Innkeeper yelled, "I'll be back!"
Let's take a look at just how to win this week's robo-themed Brawl.
Tavern Brawl basics
Name: Clockwork Card Dealer – Standard
Description: Tinkertown gnomes are testing their prototype card-bot: Optimotron! The card you draw on turn 1 will be a 1-cost card, if you have one. On turn 2, a 2-cost card…
Fun level: 3/10* Personal preference. Some players will give it a much higher score.
Difficulty: 7/10* Depending on the size of your card collection.
Replayability: 2/10
Format: Standard
Type: PVP
Deck: Constructed
Rewards: 1 Year of the Phoenix card pack
They could have called this the On Curve Brawl. Each turn, the Clockwork Dealer will try to deal you a card with a mana cost equal to the turn. 1 mana cards on turn 1. 2 mana cards on turn 2. 6 mana cards on turns 6. It gives players a great deal of control over the most random aspect of any card game, the draw.
This may be the last time we see this Brawl for a while as the soon to be released Priest card Seek Guidance could be a dominate play in future editions. Seek Guidance is a new Priest quest, and it could be very easy to complete with this type of Brawl: Questline: Play a 2, 3, and 4-Cost card. Reward: Discover a card from your deck.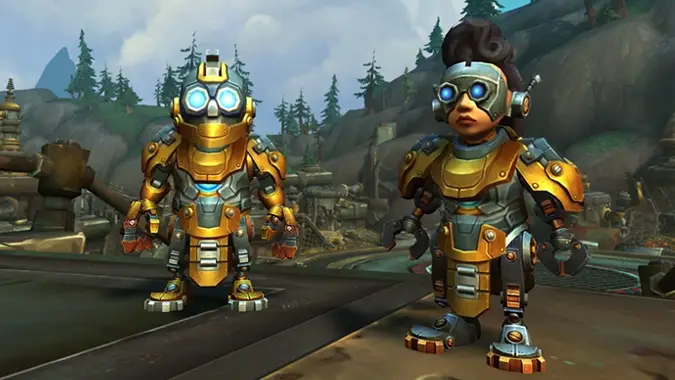 How to win the Clockwork Card Dealer – Standard Hearthstone Tavern Brawl
The most important thing you'll need to win this Brawl is a good deck. In constructed Brawls, players discover the most powerful lists very quickly, which leads to the Brawl falling into a meta structure like we see on the ladder. This is a repeated Brawl, but it's Standard format. Standard has seen dramatic changes since the last time this Brawl was in the rotation. Many of the deck used last time will no longer be viable.
Overall, this Brawl awards aggressive play. Tempo is the name of the game here. You want play the card you draw most turns.
Many of the best decks for this Brawl are the same decks dominating the Ladder. If you're looking for a break from those decks in the Brawl format this week, you might be disappointed.
Deathrattle Demon Hunter
Deck code:
AAECAea5Awb7zgP+0QO/7QPn8APu8QOoigQM2cYD0c0Dxd0Dyd0DzN0D8+MD9+gDmeoDvO0DwvEDg58Etp8EAA==
This deck's strong tempo and aggressive posture are a great fit for the rules of this Brawl. Taelan Fordring on 5 into Skull of Gul'dan on 6 and finish off with Death Speaker Blackthorn on 7. All your opponent will say is "Ouch" as their face explodes.
If you're more of a visual learn, you can watch YouTuber kamizeppi play the deck.
Smooth Curve Hunter
Deck code:
AAECAR8I+boDks0Dj+MD3eoD5e8DtIoEuIoE4Z8EC/LhA4PiA+rpA57qA97sA+buA6mfBN+fBOCfBLygBNigBAA=
This deck has cards to provide a smooth curve and give a great option each and every turn. Ysera is a great hand filler if the game lasts that long, but King Krush usually makes sure it doesn't.

Standard Aggro Elemental Shaman
Deck code:
AAECAaoIAA/buAOTuQOYuQOn3gOo3gOq3gOM4QPg7APh7AOt7gPj7gOMnwSNnwT5nwT+nwQA
This is the same aggressive deck dominating the Ladder. Mulligan for your one drops. If you go first, you'll have a 1/2 and 1/3 on the board on turn 1.
Standard Rush Warrior
Deck code:
AAECAQcKwN4DxN4Dzt4DkeQD++gDle0Dj+8DyO8DqooEsIoECru5A7y5A+LMA93NA6fOA7PeA7XeA7reA8HeA5jtAwA=
Another deck straight from the Ladder. This Warrior deck uses Rush to create great tempo.
More Clockwork Card Dealer – Standard lists
Hopefully, one of these decks listed here should get you the W. If you're on a budget, I'd recommend the Demon Hunter deck. Keep checking Hearthstone Top Decks, because there are more Tavern Brawl decks being added by the hour. If you find another great list, share it with us in the comments.