How to do Conquests for the Season's Journey in Diablo 3 Season 24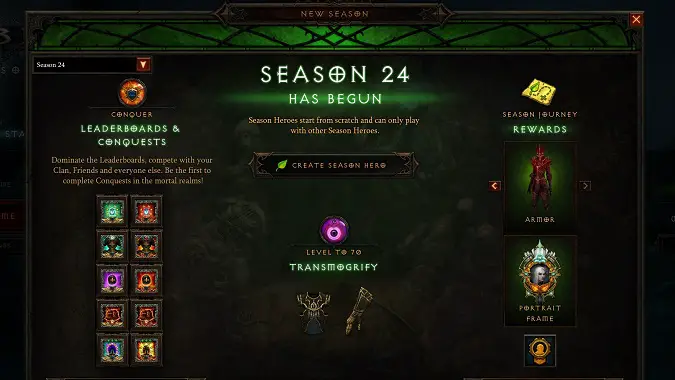 Happy Diablo 3 Season, friend! Do you have your completely adorable and totally-not-going-to-stab you Lesser Mummy pet from Season 24 yet? Wait, why don't you? Oh, Conquests.
Conquests can be painful if you haven't had to tackle them in a while (or ever). But don't let the daunting goals fool you — they're called achievements for a reason. But we're here to help you get those achievements completed! Here's what you should know going into Conquests in Diablo 3.
What are Conquests?
Conquests are unique Seasonal achievements; leaderboards exist specifically for Conquests and reset every season. The last three chapters (Destroyer, Conqueror, and Guardian) each require a Conquest in the season's journey. The Conquests aren't assigned; the goals involve completing 1 / 2 / 3 (depending on the chapter) Conquest-type achievements — one Conquest for each chapter.
While Conquests are more difficult than the average achievement, they also scale in difficulty. Some are extremely hard to achieve with solo play, and some only require level 70 and the right gear.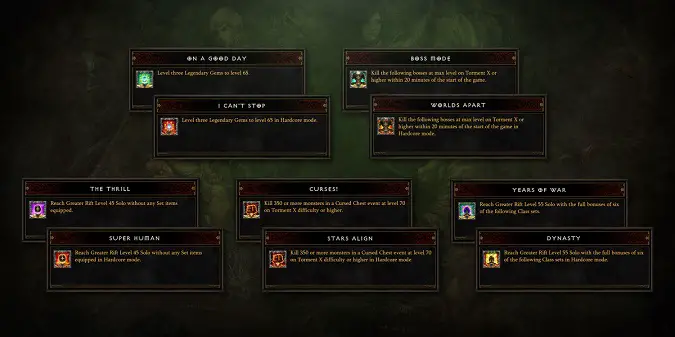 What are the current Season's Conquests?
Each Conquest achievement has a normal mode version and a hardcore mode version, so the names below are listed as Normal Name / Hardcore Name.
Boss Mode / Worlds Apart — Kill listed bosses in 20 minutes from starting the game.
Curses! / Stars Align — Kill 350 or more monsters in a Cursed Chest event at level 70 on Torment 10 difficulty or higher.
On A Good Day / I Can't Stop — Level three Legendary Gems to level 65.
The Thrill / Super Human — Reach Greater Rift Level 45 Solo without any Set items equipped.
Years of War / Dynasty — Reach Greater Rift Level 55 Solo with the full bonuses of six different Class sets.
What Conquests should you complete in Season 24?
Now, what should you tackle first? That's a pretty good question. Let's walk through these one at a time; please note that I'm going through these from a solo perspective, impacting my ordering.
On A Good Day / I Can't Stop
The easiest Conquest for Season 24 is On A Good Day / I Can't Stop.
You're going to be leveling your gems up over the course of the season's journey. The progression is pretty clear:
(Slayer) Gems In, Gems Out — One gem to rank 25
(Champion) Up and At Gem — Three gems to rank 35
(Destroyer) Insane in the Gembrane — Three gems to rank 45
(Conqueror) Gem of my Life — Three gems to rank 55
(Guardian) Gem Fatale — Three gems to rank 70
Oh, look! That final jump requires we rank our gems up 15 and not another 10, so completing this Conquest fits right in between the two. If you're working on the pet, you'll achieve this naturally as you scale your gems up in Greater Rifts.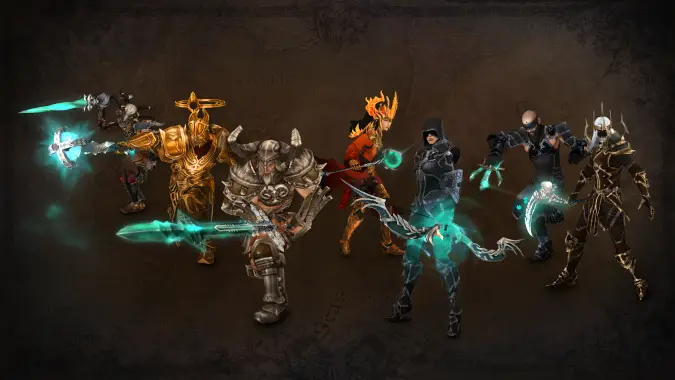 The Thrill / Super Human
The next easiest requires a bit more effort in gearing and paragon levels — The Thrill / Super Human. With the introduction of the Legacy of Dreams legendary gem, this Conquest has become significantly simpler for almost every class, as most have a solid LoD build that can be thrown together with low effort. Like the Legacy of Nightmares ring set, the Legacy of Dreams gem increases damage dealt and reduces damage taken but requires no set bonuses equipped on the player. Individual set items, no problem.
Every legendary item equipped contributes to the increase, but try to get the gem to rank 25 so you unlock the double bonus for Ancient items. The Rank 25 LOD is not essential; in Season 21, I completed Speed Demon with most of the gear necessary for the Demon Hunter Legacy of Dreams build (but not all) and a Rank 15 gem. Sadly, not every class has a solid build that can take advantage of Legacy of Dreams, making it frustrating for some of the player base.
Boss Mode / Worlds Apart
Boss Mode / Worlds Apart is this season's first Conquest that is much easier to achieve with a group. At level 70, killing the listed bosses is next to no effort. But, kill them all in 20 minutes? Now it's a challenge!
If you're working on this solo, your greatest effort will be in getting to the bosses. Some of them, like The Butcher and Adria, take quite the jog to get to. Like Belial and Malthael, others have two phases to their fights, so you can't one-shot them and continue onward. And a few (Diablo and Urzael) are the worst combination of both — slow to find and slow to fight. Queue up as much mobility between your active and passive skills, paragon points, and gear bonuses. Don't get me wrong, this will be difficult, but you can achieve this Conquest as a solo player.
If you're tackling this with a group, it's critical to remember that all party members must be present to get credit for the kills. Taking the portal to town before accepting the boss fight will save where you were on your current map. No loss of run progress is required.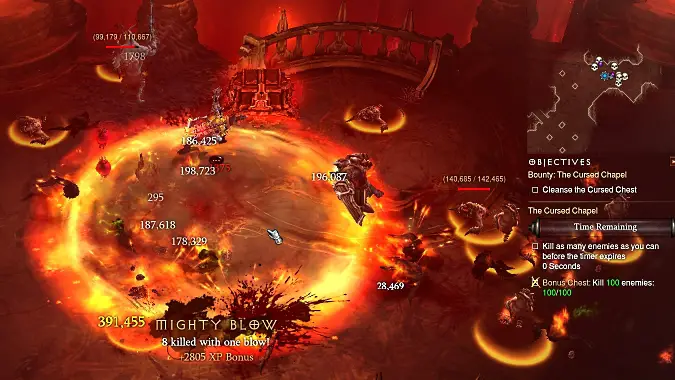 The Curses! / Stars Align
The Curses! / Stars Align Conquest is quite fun in a full four-person party but can be done solo with the right class. The bulk of the effort is front-loaded.  First, you'll want to look for a build that's going to put out a good deal of Area or AOE damage because you're racing against a clock where the standard goal is 100 enemies killed, not 350+. Multishot Demon Hunters, this is your time to shine!
Next, try to hunt for these two specific Cursed events with a better spawn rate: the Cursed Peat event in Act 5's Paths of the Drowned or the Cursed Bellows event in Act 1's Halls of Agony Level 3. Once your stars and planets align, kill your little heart out (but not literally, because ouch).
Years of War / Dynasty
Years of War / Dynasty is definitely not the hardest to conquer solo this season, but it will take the most time. Set gear drops all over the darn place, but since each character has a max of five sets allocated to it, you'll need to have at least two level 70 characters in Seasonal play. A second 70 is easily achieved with either a Gem of Ease or pinging in the Seasonal Powerleveling Community in-game for some T6 rift speed runs. You may already have a second character in the wings for farming your Ethereals.
If you're missing a piece of gear for one of the sets, there are two options: the first is to equip (either as a ring or in your Kanai's Cube) a Ring of Royal Grandeur. With this ring, you only need five of the six pieces to obtain all the set bonuses. The second option only works if you've received multiple drops for the set — say, two or three pairs of boots. Use Recipe 4 (Skill of Nilfur) to convert the set item. You may end up landing on a few duplicates again, but that missing piece is yours sooner or later!
The goal of this Conquest is to complete Greater Rift level 55 runs with bonuses from six sets. GR55 is the equivalent of Torment 12; while we're not talking about complete impossibility here, you're going to want solid gear for your builds. So put in the time and patience, and you'll knock this one out!
So what is holding you back? There are Conquest achievements out there to tackle before Season 24 ends, with a stabby little mummy pet waiting for you!
Updated 7/23/2021