Celebrate the season with Hearthstone's New Year Bash Tavern Brawl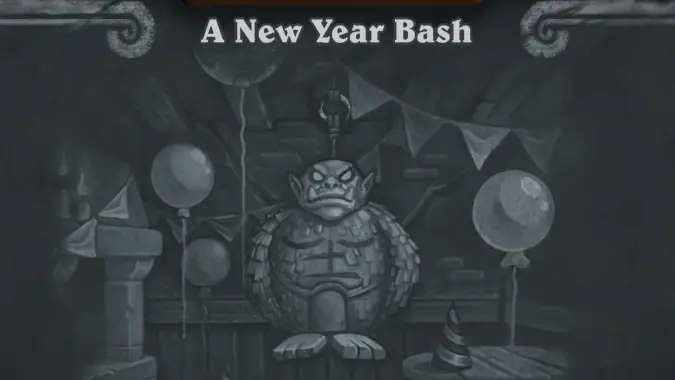 It's the holiday season in Hearthstone, and this week's New Year Bash Tavern Brawl is all about celebrating. It's a cooperative Brawl with pre-constructed decks, so it's easy to jump right in and play, with no worries about your card collection (or your opponent's card collection).
Cooperative Brawls — where you and your opponent work together towards a common goal rather than just beating each other up — can be frustrating if your opponent doesn't understand what's happening. However, this Brawl clearly explains what to do with pop-up text so there's (hopefully) no confusion. I've yet to jump in a Brawl where my opponent just tried to kill me, which makes for a pretty fun co-op experience.
But to win, you need to know what you're getting into, so here's everything you need to know about the New Year Bash Tavern Brawl.
Tavern Brawl basics
Name: A New Year Bash
Description: The party is here! Work together with another player to decorate the tavern and kickoff a New Year's party!
Fun level: 7/10
Difficulty: 5/10
When you jump into the Brawl, you'll randomly be assigned to play either a Druid or a Rogue. Both decks have a lot of cards that help the other player — and while these are often detriments in a standard game, they're a boon in a cooperative Brawl like this one. Pay attention to cards that give your opponent minions, let them draw cards, or even heal them, because helping each other out can be the key to winning.
This cooperative Brawl is a two-phase fight: first you decorate the tavern and then you have to break open the piñata. During both phases, Party Crashers (3/5 minions with Taunt, upgraded to 5/7 in phase 2) will be summoned on both sides of the board, and at the end of each turn they'll attack the opposing hero. It's important to keep these under control on both sides of the board, or else they'll overwhelm you — take them down as fast as you can, however you can. Remember: you're ignoring your opponent and their other minions and just focusing on party crashers and the piñata.
That's the only mechanic that lasts all game, so now let's talk about the two phases of the fight.
Phase 1: Decorate for your New Year's Party
During this phase, you're trying to put up 25 decorations in the tavern, which you do by using your hero power: Decorate. This spends all of your mana and applies one decoration for each mana spent. Use this as much as you can to get through the phase as quickly as possible, but remember that you want to keep minions on the board to control those Party Crashers. If you want to make it through phase 2, you should have as few Party Crashers on the board as possible.
Phase 2: It's piñata time!
As soon as you hit 25 decorations — you can see how many you've applied so far by mousing over your Hero Power — a Piñata Golem will show up. This 5/85 mob with Taunt will swap between your side of the board and your opponent's side of the board, and you'll have to kill it to win.
You can attack the piñata just like a normal mob, but in phase 2 your Hero Power changes to something a little more useful: Pelt (2), which does 3 damage to the piñata. When you attack the piñata (with a mob, not with your Hero Power), you'll get a piece of candy. These candies are cards that will help you stay alive:
Regenerative Cookie restores 4 health to each hero
Rock Candy destroys a random Party Crasher
Party Supplies destroys a random Party Crasher or draws a card for each player
Divine Sweets which causes each player to draw the card.
During this phase, Party Crashers keep spawning, though they're upgraded to more dangerous 5/7 mobs. Occasionally, the piñata itself will cast an AOE that does damage to the whole board (and often clears out your minions). Like in phase 1, you'll want to focus on keeping these minions down, and the "candy" you get gives you some extra tools to do so.
How to win A New Year Bash
You'll have to rethink your normal playstyle for this one, because beyond decorating, kicking out Party Crashers, and bashing the piñata, you need to help your opponent out. Sometimes this means healing them, destoying Party Crashers on your side of the board, buffing their mobs, using cards like Sap to give them a second Battlecry effect, and so on. If they die, you die, so you want to help them out when you can.
Here are three tips that will see you through to the end of the match:
Kill Party Crashers as quickly as possible. If you let more than one stick to each side of the board, they'll probably overwhelm and kill you or your opponent. Either means a loss.
Use your Hero Power as much as you can. In Phase 1, you need to balance it against putting minions on the board, but in phase 2 it's best to save the mana to use it every round.
Help your opponent out. We're conditioned to focus on ourselves, but pay attention to your opponent. Sometimes the best use of your cards will be helping them out.
And that's really all there is to it. For winning the Brawl you'll earn one card pack, but it's also a decent Brawl to quest in.
Originally published 12/26/2019, updated 1/5/2022