WoW
Nov 28, 2022 1:30 pm CT
How to get Twitch drops for WoW and earn the Feldrake mount, starting later today
The World of Warcraft team announced that over the next two months there will be special in-game item drops available when watching eligible Twitch streams to go along with the Dragonflight prepatch and release. While Twitch drops aren't new for Blizzard — Hearthstone has been doing them for a while now — this is the first time that rewards other than titles could be obtained by viewing online streams for WoW. Unlike the recent partnership with Amazon Prime Gaming that only required connecting accounts and clicking a button three times to acquire retired transmog helms, this time you'll need to watch streams for multiple hours over the course of the promotion, but the rewards are more than worth the time.
The first promotion (for the Dragon Kite pet) has come and gone, but the main attraction from this promotion arrives today: the Feldrake mount, previously only attainable via the long-defunct trading card game and not even available in the Black Market Auction House. The only way to acquire one for the past several years was to pay a significant amount on eBay. The Feldrake will be available starting today, November 28 starting at 3 pm PST/23:00 GMT.
Here's what you need to know about earning your Feldrake and the other World of Warcraft rewards available from Twitch Drops, starting with linking your Battle.net account to Twitch.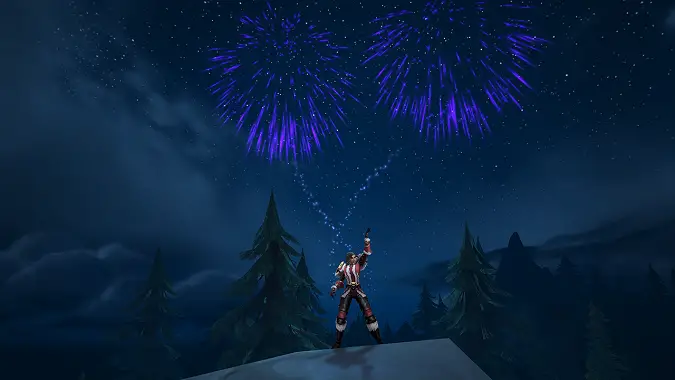 How to connect your Battle.net account to your Twitch account
It's a straightforward process that will only require logging into Twitch and then going to your Battle.net settings — but keep your Battle.net Authenticator handy if you use one.
Login to your Twitch account.
Go to the Battle.net Connections pane. If you're not already logged into your Battle.net account, you'll be prompted to do so.
Scroll until you find the Twitch option, and click +Connect.
Follow the instructions.
Watch the streams.
Some users have reported that a Twitch account needs to exist for at least seven days before it can be linked to your Battle.net account, however other users have not encountered that issue so it's possible this is no longer the case.
Twitch channels that have drops active are labeled as such (there's a "Drops Enabled" message near the stream categories). A great way to keep track of your progress is at the Twitch Drops Inventory page, which constantly updates with how close you are to earning the drop.
Once you finish watching for the required amount of time, a clickable message will pop up in the stream chat telling you that your drop is ready to be claimed, or you can claim it via the Drops Inventory page. You'll receive the confirmation that you got it at that time, and you can always check the Drops Inventory page later to review successful acquisition.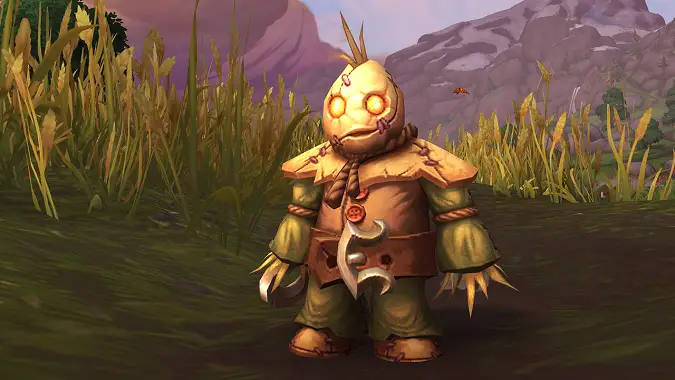 The rewards that will be available and when
The first Twitch drop that you'll be able to acquire is the Dragon Kite pet, previously only available from the TCG or the Black Market Auction House. In order to obtain it, you'll need to watch at least four hours of Dragonflight prepatch content starting November 15 at 3 pm PST (23:00 GMT) and ending at 11:59 pm PST on November 18/7:59 am GMT on November 19. 
The Feldrake will become available concurrent to the global release of Dragonflight on November 28 (3 pm PST, 23:00 GMT).  As with the Dragon Kite, you'll need to watch at least four hours of Dragonflight streams on Twitch to earn the mount; its availability ends on December 1 at 11:59 pm PST/December 2 at 7:59 am GMT.
The final Twitch drop this round is the Perpetual Purple Firework toy, a TCG item with a twist: it was originally only obtainable with UDE points that were discontinued when Cryptozoic acquired the license from Upper Deck in 2010. Not only that, the cost was ridiculously excessive compared to later items, requiring the purchase of $75 worth of booster packs to earn enough UDE points to redeem. This may actually be the rarest of the TCG items dropping from Twitch, as unlike the Feldrake or Dragon Kite it is simply no longer redeemable in the game. It's also the easiest of the three drops to acquire, needing only to view two hours in a window over a fortnight long: it starts on December 13 at 3 pm PST, 23:00 GMT and ends on December 28 at 11:59 pm PST/December 29 at 7:59 am GMT.
To ensure you're getting your drops, go to your Twitch Inventory page. The progress bar will be active as soon as you step into a stream with drops enabled. When you enter a stream that has drops enabled, there will be a small pop up over the chat letting you know that you're earning rewards. You can also search the World of Warcraft category for the DropsEnabled tag, which is a tag automatically set by Twitch for eligible channels during an active promotion.
The last item you'll be able to obtain during this Twitch promotion is the brand new Ichabod harvest golem pet, but this is acquired through the gifting of subscriptions, not via drops. Gifting two subscriptions during eligible streams between November 28 (3 pm PST, 23:00 GMT) and December 12 (11:59 pm PST)/December 13 (7:59 GMT) will earn you the pet. Gift subscriptions are $5 in the US, so it's effectively paying $10 for a pet which is the same as purchasing one from the store. The Twitch channels eligible for this promotion are still unknown at this time.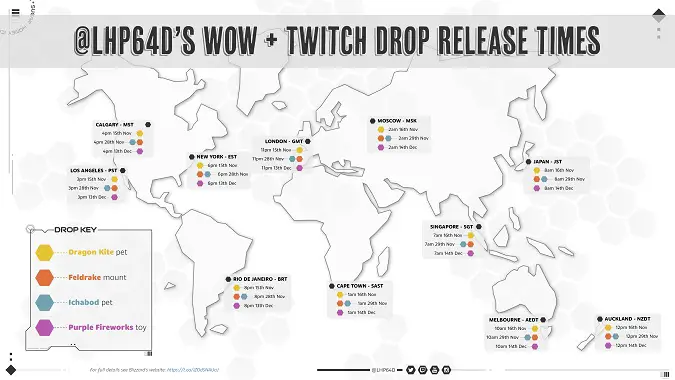 Handy quick visual guide to the Twitch drops
If all this time zone business has got you down, World of Warcraft player and streamer LHP64D has made available a quick visual guide to illustrate when the various drops will become available. Click the links below for full size images:
Twitch drop map of starting times
Article originally published November 3, 2022. Updated November 28, 2022.