Count your blessings to win this week's Hearthstone Lunar Blessings Tavern Brawl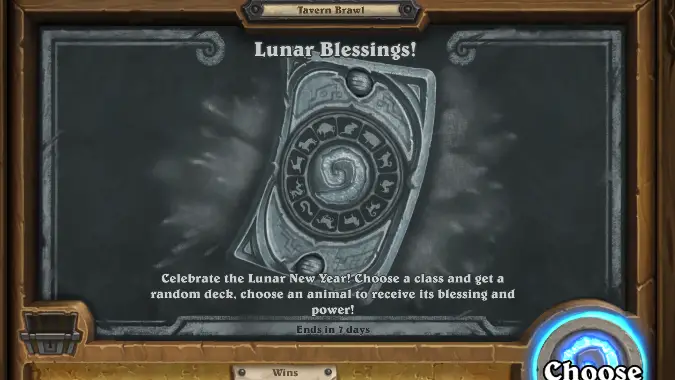 Hearthstone is going big with the Lunar Festival this year, starting off with the Lunar Blessings Tavern Brawl. This Brawl serves as the introduction to the official Lunar New Year event which begins on January 29th and run through February 12th. To wish you a happy Lunar New Year, during the event you can give your opponents a festive greeting with Lunar New Year emotes! Plus, you'll also have the opportunity to complete eight different special themed quests, each one rewarding both gold and dust! These will be available on January 29th.
Tavern Brawl basics
Name: Lunar Blessings!
Description: Celebrate the Lunar New Year! Choose a class and get a random deck, choose an animal to receive its blessing and power!
Fun level: 5/10
Difficulty: 5/10
Replayability: 9/10
Format: Wild
Type: PvP
Deck: Provided
Rewards: 1 Standard pack. This can contain any card from any set in the current Standard rotation.
Your only choice will picking your class. You're then assigned a random deck of class cards and Neutrals. You know what means! It's time once again time for the RHBA (Random Hearthstone Brawl Autotext): "You'll find everything from Legendary cards to Basic cards in your deck. You'll have some class cards and some neutrals, but there are no strict ratios — it's all random."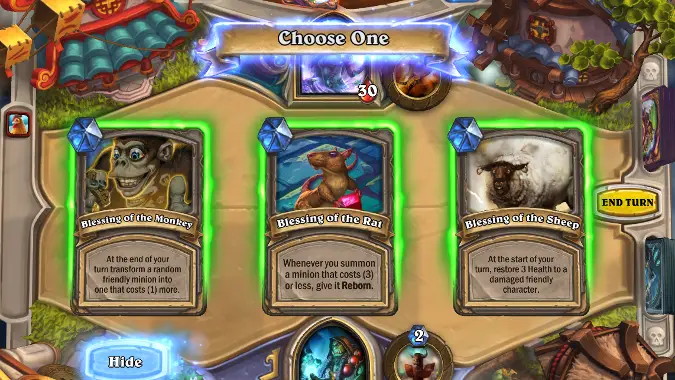 Once the game starts, you'll have a Discover type choice of three different blessings chosen from a pool of twelve:
Blessing of the Rat: Whenever you summon a minion that costs (3) or less, give it Reborn.
Blessing of the Ox: Whenever you summon a minion give it +3 Health.
Blessing of the Tiger: Whenever you summon a minion give it +1 Attack.
Blessing of the Rabbit: Whenever you summon a minion that costs (3) or less, give it Rush.
Blessing of the Dragon: Whenever you cast a spell, add a random Dragon to your hand.
Blessing of the Snake: Whenever you summon a minion that costs (3) or less, give it Stealth.
Blessing of the Horse: Your spells cost (1) less.
Blessing of the Sheep: At the start of your turn, restore three Health to a damaged friendly character.
Blessing of the Monkey: At the end of your turn, transform a random friendly minion into one that costs (1) more.
Blessing of the Rooster: Whenever you use your Hero Power, deal two damage to a random enemy.
Blessing of the Dog: Whenever you summon a minion, give it Deathrattle: Summon a 1/1 Mastiff.
Blessing of the Pig: Whenever you summon a minion, add a Coin to your hand.
How to win the Lunar Blessings Tavern Brawl
Lean into your chosen blessing. While you won't know the particulars of your deck, you should be familiar with the basic strengths and weakness of your chosen class. Tiger, Snake, and Dog favor more aggressive gameplay. Those might be good choices for Demon Hunter, Hunter, and Paladin. The Coins from Pig ensure Rogue has an activator for Combo cards. Horse plays well into Mage. Dragon and Ox would fit with Priest.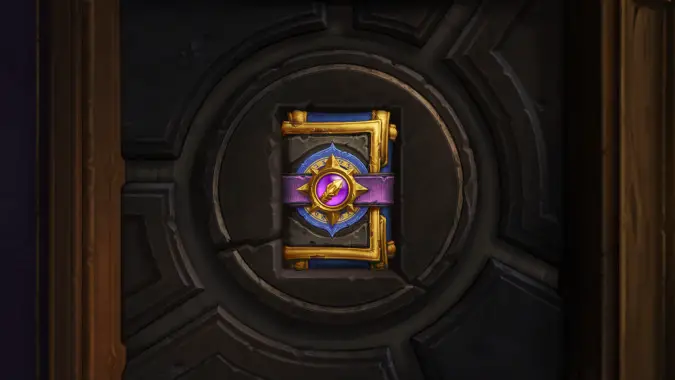 In this Brawl, persistence is the key
While there's a high degree of randomness to the Brawl, there are fun strategic decisions as you try to solve your opponent's board. You never know what crazy card your opponent might have in hand.  Different Brawls appeal to different players — you might love all the randomness and crazy outcomes, or you might hate it.
The Brawl is a good way to knock out quests, especially if you've got a quest to play a class that's not your favorite. If you want the card pack, just keep queuing up. Eventually, you'll get a strong deck with great minions and spells and overwhelm your opponent.
May the RNG dice be in your favor and just roll with it, baby.
Originally posted February 11, 2021; updated February 2, 2022; updated January 25, 2023