What we know about the new vampiric abilities in Diablo 4 Season 2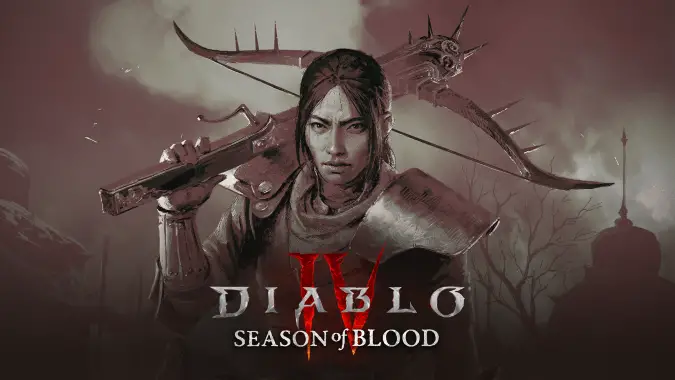 In Diablo 4 Season 2, Season of Blood, Sanctuary is beset by a newly turned army of ravenous vampires, and it is up to you to "hunt the hunter." There are not a ton of details yet, but both the announcement trailer from Gamescom's Opening Night and the associated news post mention wielding Vampiric Powers against their originators. These Powers could be common across all five classes — but where's the fun in that?
Let's assess what's shown for each class' gameplay and speculate on a bonus possibility for all five.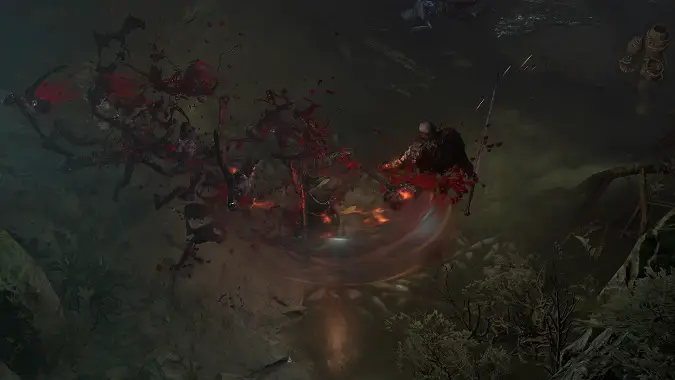 Our berserking buddies bristling with blades (the Barbarian) kick off the announcement trailer's gameplay segment, executing Leap to enter the fray. Following this entrance, the Barbarian sends out a wave, causing enemies in front of them to erupt into bloody corpses. Let's call this trick the Explosive Breaker — a rolling frontal attack of brutal, fatal assault. Later in the trailer, Whirlwind sweeps through vampiric enemies — perhaps instead of entirely new skills, we'll get Vampiric modifications and improvements to existing abilities?
The trailer party's Rogue comes dashing into the fray from the shadows. She's clearly applied Cold Imbuement, but the vivid red slashes could be the Basic Skill Invigorating Strike. It's not until the end of the gameplay section that we see what could be a unique new twist, where red energy is clearly absorbed by the Rogue during Barrage! This could be a form of healing in the Season 2 toolkit — how about Life Tap? But keep in mind we also see some unique mobility in the form of bats (more on this later).
The Sorcerer is a lot more obscure, certainly. After executing a classic Meteor, we clearly see more red energy drawn from one of the incinerated enemies to the caster, who throws out some Fireballs and teleports away. This is the first instance where we could be seeing a Vampiric improvement to a skill — Draining Meteors may be on the agenda to buff subsequent spells.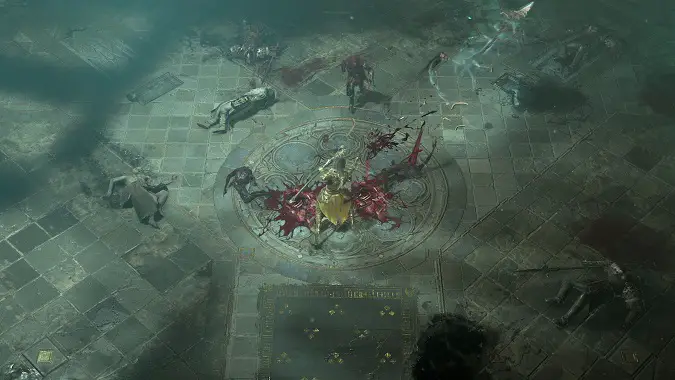 The Necromancer is our second glimpse at a potential new mobility option, followed by two enemy deaths to Bone Spear and a third enemy dying to what looks like the Necromancer's Bone Spirit. Again, we see vivid crimson streaks with each kill; these could be confused for the normal corpse highlighting seen by Necros but may also speak to Vampirically-boosted abilities. Perhaps a Blood and Bone passive?
Sadly, the Druid has the shortest bit in an already short gameplay segment and one where we again do not see anything new. We're definitely shown a much gorier iteration of the werebear smashing enemies with Pulverize, followed by Trample. Let's extrapolate from this glimpse and theorize some sort of new gorier Ursine Rage for additional damage output.
Finally — the bat form. Both the Rogue and Necromancer show sequences of improved mobility (twice for the Rogue!) by turning into a cloud of bats and shooting forward. This ability is echoed at the end of the trailer, where the Vampiric Master transforms into bats flying towards the viewer. I dub this the Master's Assault, where, hopefully, every class can briefly dissolve into a cloud of bats and dash forward a short distance to their target.
Certainly, we'll know more as the Seasonal preview announcement comes out — if Season 1 is setting the tone, this will be 2 weeks before the start of Season 2. So, keep your eyes out for additional details at the beginning of October. And let us know if you agree with these guesses in the comments below, or share your own awesome ideas!