Diablo 3 Patch 2.2.0: The Corrupted Ashbringer comes to Diablo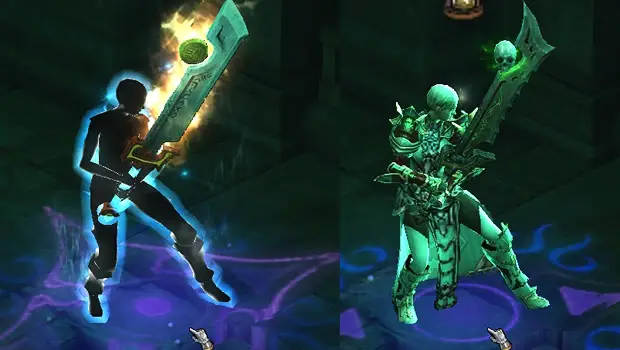 Blizzard recently posted the official patch notes for the patch 2.2.0 PTR. The highlights of this patch are new items and some long-awaited quality of life improvements. As players have jumped onto the PTR, they've also started to discover many undocumented changes, including a new weapon: the Corrupted Ashbringer.
Yes, that Ashbringer. Its legendary power transforms the weapon into its uncorrupted form, as shown in the screenshot above from reddit. This isn't the first time a popular WoW weapon has found its way into Diablo 3. Thunderfury, Blessed Blade of the Windseeker was introduced in patch 2.0. I patiently await a Diablo version of Thori'dal for my demon hunter.
Here are a few of the highlights from the patch notes:
Regular Health Potions have been removed from the game. The Health Potion slot on the action bar is now a bottomless Heath Potion that will heal you for 60% of your maximum Life
When crafting gems and items the entire quantity will now be crafted at once
Rift Guardians' positions now always show on the map or minimap regardless of your distance from them
Several existing Legendary items have been updated to include a unique Legendary power
Many existing set bonuses have been re-designed, and demon hunters, barbarians, and wizards have brand new 6-piece sets
Check out the full patch notes here or hop onto the PTR and test it for yourself.