The Queue: Sleepy December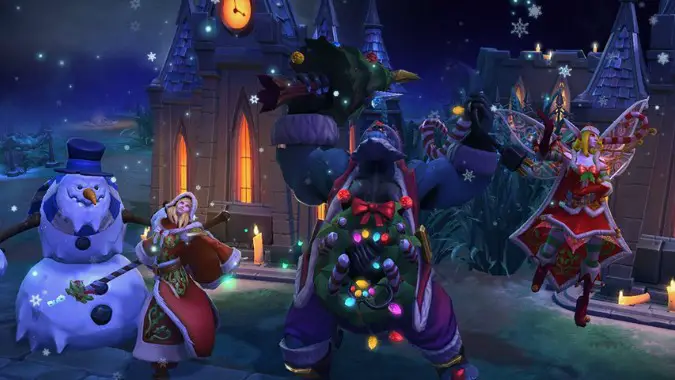 Welcome back to The Queue, our daily Q&A feature for all of Blizzard's games! Have a question for the Blizzard Watch staff? Leave it in the comments!
The holidays continue to slow things down around here, so today's Queue is a little on the short side. Make sure you leave your questions today to give tomorrow's writer an easier time of things! It'll be our holiday gift: the gift of questions.
---
JDMAC ASKED:
I know that while you are in your Garrison, you share Trade Chat with everyone else's garrison, but is it also tied into all capital cities at the same time as well?  How long has this been in effect?
It's been that way since Warlords launched. There's only one Trade channel per faction, and wherever you join Trade, it's the same one. That includes your garrison.
---
SPACEBARD ASKED:
Do we have a status on the rumored, "new" comment system?
We're still in the shopping phase. As I've said before, the problem we'll always encounter with comment systems is none of them are perfect. Every comment system which exists has different problems. There are small, not-very-well-known comment systems that exist on a plug-and-play basis for WordPress, and at first glance they seem perfect — until you realize comment systems are big beasts and the solo developer that made that thing which looks perfect isn't capable of keeping it updated and secure in a timely fashion.
We've fancied the idea of building our own comment system, but again — we don't have tons of resources to put into something like that. We can build it, but are we able to dedicate time and resources into maintaining it? Probably not. Is that time/money better spent elsewhere? Probably, yes.
Finding a comment system is a game of choosing lesser evils. We're not rushing into that. If you're choosing from among evils, you might as well take your time.
---
@NAMIROCKET ASKED:
For those of us who haven't played Warcraft much at all in the last calendar year, what should we do first upon returning?
If you enjoyed the Timeless Isle in Mists of Pandaria, Tanaan Jungle is like that but on steroids. I had fun with it, personally. If you're a raider, there's the usual raid things. If you like dungeons, you can try Timewalking during a Timewalking bonus weekend, which you can see on your in-game calendar. Those are the three big ones, I think — the last year hasn't actually been all that exciting in the World of Warcraft scene. Everyone's busy looking forward to Legion and with good reason. Warlords of Draenor fizzled out.
---
@SICCOTHERMAPLUG ASKED:
Do we expect another Alpha Invite Wave first week of January after the Holidays?
I'd be cautious about setting your heart on specific dates. Will it be the first week of January? Maybe. Could it be the week after that one? Maybe. The developers are, most likely, enjoying their holidays. While I'm definitely eager to get back into the Legion alpha, I understand it'll come back when it comes back. And while I do anticipate we'll be seeing more people gaining alpha/beta access in the near future, I don't know when that might be.