Dustin Browder departs Heroes of the Storm, Alan Dabiri steps up as game director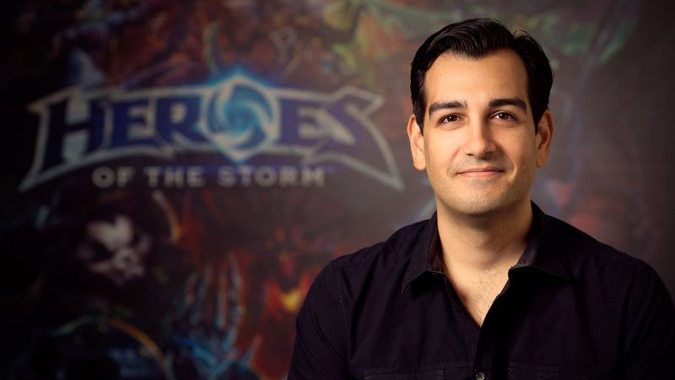 Today, Heroes of the Storm Game Director Dustin Browder announced he's departing Heroes to join a new project at Blizzard Entertainment. Technical Director Alan Dabiri will be stepping up to take his position as Game Director on Heroes of the Storm.
This was not an easy choice to make. I still play Heroes five nights a week, and sitting in the bullpen surrounded by this team has been the most intensely creative experience of my career. But one thing that's making this decision easier is knowing the future of Heroes is in the right hands.
Alan Dabiri is a 20-year veteran at Blizzard Entertainment and has had his hands in many of Blizzard fans' favorite games. Polygon states he started at Blizzard Entertainment working on a Mac port of the original Warcraft: Orcs and Humans. Dabiri has also contributed to Warcraft 3, World of Warcraft, and StarCraft 2. Players of The Burning Crusade might have equipped Dabiri's Enigma once upon a time. If Dabiri's track record is anything to go by, Heroes of the Storm is in good hands.
Over the last few months, I have been transitioning my responsibilities to Alan Dabiri, a 20-year Blizzard veteran and a fellow Heroes of the Storm fanatic. In fact, since StarCraft entered the Nexus in September, the Heroes team has been releasing some of our best content to date all without my daily involvement and I've been thoroughly blown away with what they have delivered. For those who haven't seen him on BlizzCon panels or doing interviews, Alan has had a hand in nearly every aspect of Heroes since the beginning, both in his role as our technical director and as part of the team's collaborative development process. Alan is also a passionate member of the community, and he's always in touch with what's happening on Reddit, in our forums, and wherever you're talking about Heroes. He's been relentlessly working to make Heroes better for years, and I'm excited that he'll be continuing to push the game forward as game director.
However, Dustin Browder has been one of Blizzard Entertainment's most vocal developers when it comes to player communication. He regularly answered player questions on Twitter to address concerns or simply provide updates on current and future content. The Heroes of the Storm fanbase has grown accustomed to regular communication, and without Browder on the team, it's unknown whether or not that communication will continue.