Heroes of the Storm hotfixes squash bug plague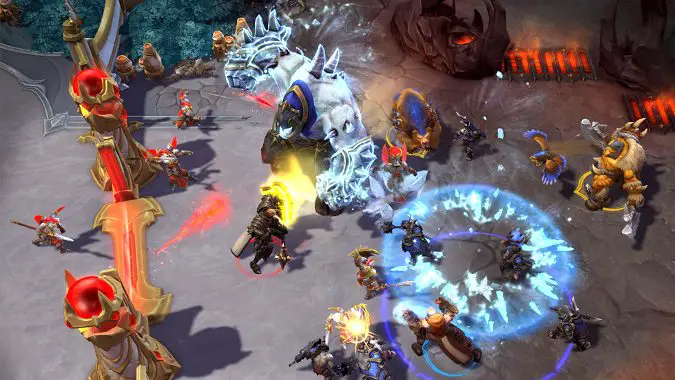 A startling number of bugs made their way into Heroes of the Storm during Valeera's release patch. Today's hotfixes finally address many such bugs ranging from minor tooltip errors to severe mechanical issues. If you don't play Heroes of the Storm, a majority of these seem incredibly minor: who cares if X or Y behave a little weirdly? In a game where awareness of the details matters and the tide of a fight can turn in an instant, though, something like Ragnaros requiring a new attack command after using one of his abilities can change the outcome of a match.
Bug Fixes
General
Color Blind Mode: Fixed an issue causing Minimap icons for uncaptured Merc Camp to appear very similar in color to Merc Camps that have been captured by allies.
Graphics: Targeting indicators will no longer disappear after minimizing the client during Battleground loading while also running the game using DirectX9 in Fullscreen mode.
Battlegrounds
Infernal Shrines: Punishers will no longer repeatedly attempt to walk into the opposing team's starting area when lead beyond Keeps to a Protected Core.
Tomb of the Spider Queen: Webweavers will no longer stop advancing down lane after encountering an opposing Scouting Drone when no other enemies are nearby.
Heroes, Abilities, and Talents
Ice Block: Fixed an issue which allowed Brightwing and Malfurion to use certain active Talents while in Stasis.
Seasoned Marksman: Fixed an issue causing Seasoned Marksman to increase the damage dealt by Titan Killer.
Kael'thas: Fixed an issue that could cause Pyroblast to move unpredictably when fired at a target that enters and exits the mines.
Kael'thas: Fixed an issue that could cause Pyroblast's targeting indicator to persist indefinitely when targeting a Hero as they become Unrevealable.
Nazeebo: The Corpse Spiders vase will no longer fall through the terrain when the Ability does not hit any enemies at its landing location.
Ragnaros: Activating Empower Sulfuras will no longer cause Ragnaros to lose his current target if that target was automatically acquired during attack-move command.
Ragnaros: Catching Fire's Talent and Quest Progress tooltips now each state that Ragnaros gains 1.5 Health Regeneration per Regeneration Globe he gathers.
Zagara: Mutalisks will now correctly fly around or over unpathable terrain.