You don't have to use Azeroth Auto Pilot for WoW Classic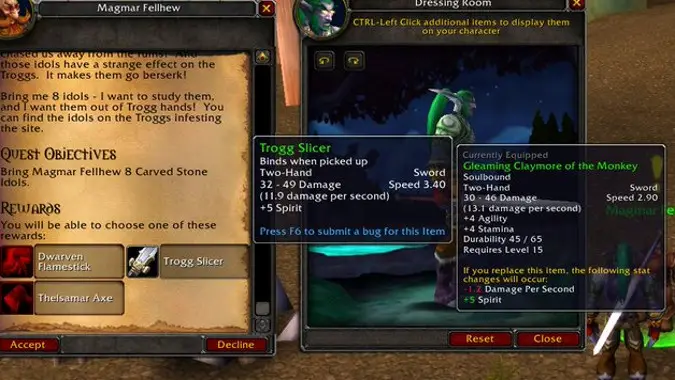 WoW Classic brings back all of the old memories of spending hours questing and looking for quests that were pretty essential to the original game. With the help of the Azeroth Auto Pilot addon you can skip all of that and streamline your way to the current level 40 cap.
The addon has unsurprisingly upset some people who want everyone to have the same experience that they did 15 years ago. The argument is based on the fact that original game forced you to spend lots of time in the world searching for where to go and what to do next. That time investment was eventually paid off when you found what you were looking for. It was a cycle of satisfying MMO play that the current game has significantly sped up.
With the Azeroth Auto Pilot addon, WoW Classic players get a taste of that modern design by having things like an arrow pointing you toward your next objective, the ability to skip cutscenes and dialogue, and the ability to automatically fly to where you need to go. This, according to the detractors, isn't authentic to the original experience.
Of course, the other side of this offers a simple solution: don't use the addon, or any others that affect the game in a similar way. Much like the recent discussion about difficulty in games, the Azeroth Auto Pilot addon discussion is really about the way players demand that everyone else experience things the same way they do. This is of course impossible, given that there are many, many different types of players who have varying goals for what they want out of the game. One person might want to try to recreate their original experience, and another might want to get to the level cap as fast as possible. It also disregards the fact that there could be parts of this addon that help make the game more accessible to certain players.
Azeroth Auto Pilot might get you to the level cap faster than another player, but those imbalances will always exist. There will always be someone who has mastered leveling guides or has an amazing memory to speed through the process versus someone who has never even played the game before. At the same time, it's also true that using the addon will hurt the intended experience. The ways to play the game are vast and they are varying degrees away from recreating the original feel of the game. The best way to deal with this fact is to accept it and enjoy the game how you want to.