How Hearthstone's new Transfer Student card works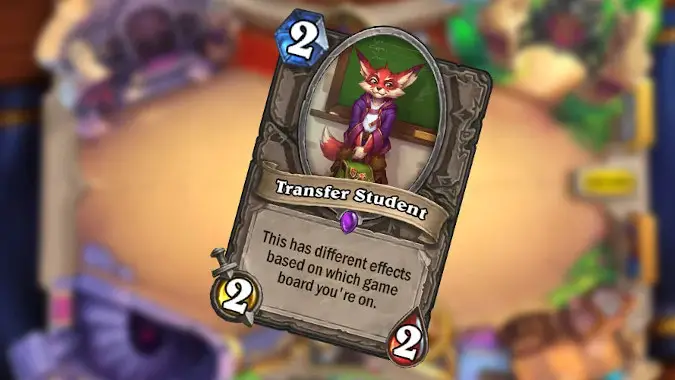 The next set in Hearthstone is Scholomance Academy. To promote it, Blizzard is giving all players a new card, Transfer Student. He is easy to get — just log in to Hearthstone any time between now and October 20, 2020, and two copies are automatically added to your collection.
Transfer Student is one of the most unique cards added yet. His effect changes based on the board the game. He is always a 2-Cost, 2-Health, 2-Attack minion. But his effect changes to meet the theme of the battlefield he is in. The Dalaran board gives him the effect to add a Lackey to the player's hand. (This is because the Dalaran board was released with Rise of Shadows, the patch that added the Lackey card type.)
This is the first time that the board has had direct impact on the game play. Previously, it was always cosmetic. This is great thematically for the card, with the idea that a Transfer Student would find life different, depending where they wound up, and have to adjust to conditions there. Strategy-wise, this will not be used a lot in top decks, as the randomness is too unpredictable. It will not be consistent for Quest decks, and some effects are better than others. It is just fun to see Blizzard experimenting with what Hearthstone can do, and the board having more impact than just something to click when bored. Maybe this is a test for things to come, or maybe this is a one-off.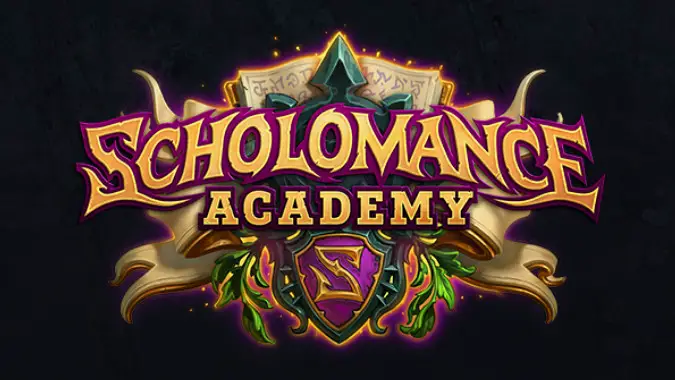 What are the different effects from Transfer Student?
There are currently 25 different boards, with 25 different effects. A post on Reddit by Blisterguy put together a visual to help remember ten of them. Below is a list of the Battlefields with the Transfer Student effects. The visuals are included, where available, to help remember how he interacts with his environment.
Scholomance (Not released yet) — Battlecry: Add a Dual Class card to your hand.
Outland — Dormant for 2 turns. When this awakens, deal 3 damage to two random enemy minions.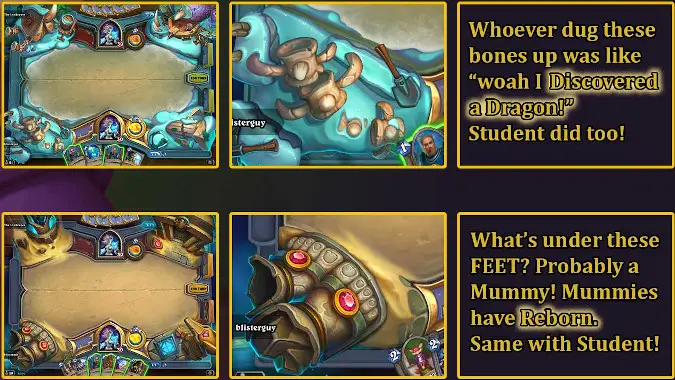 Descent — Battlecry: Discover a Dragon.
Uldum (Feet) — Reborn.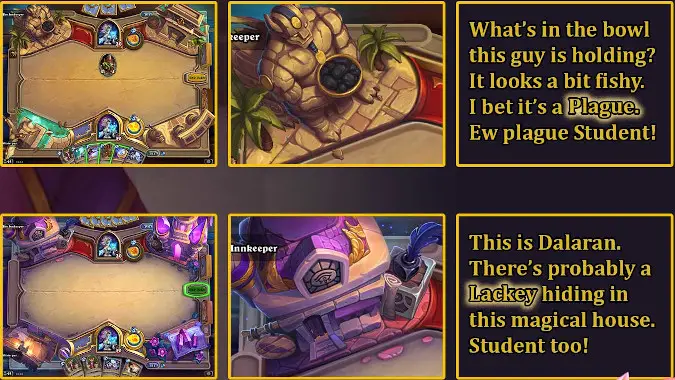 Uldum (Windmill) — Battlecry: Add an Uldum plague spell to your hand.
Rise of Shadows — Battlecry: Add a Lackey to your hand.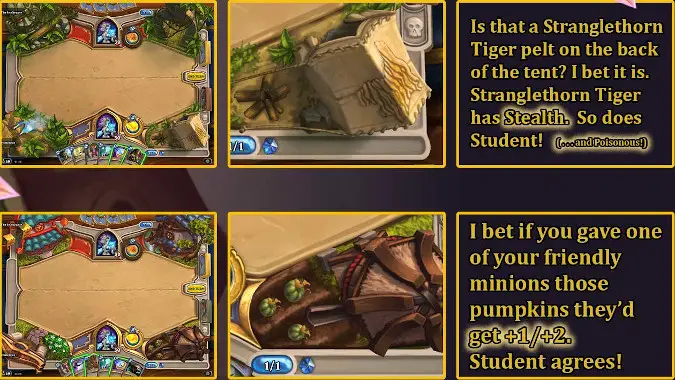 Stranglethorn — Stealth, Poisonous.
Pandaria — Battlecry: Give a friendly minion +1/+2.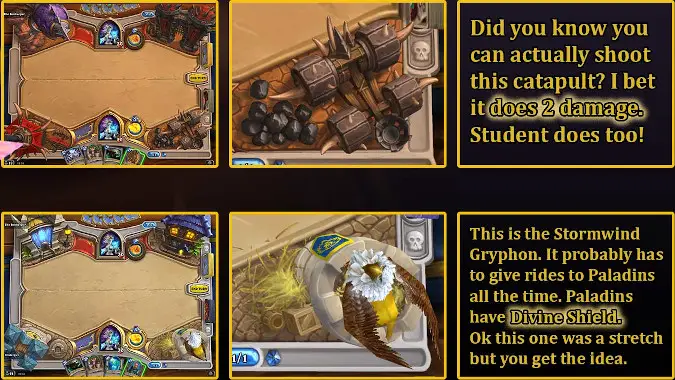 Horde — Battlecry: Deal 2 damage.
Stormwind — Divine Shield.
The rest of the effects are as follows:
Naxxramas — Deathrattle: Add a random Deathrattle minion to your hand.
Goblins vs Gnomes — Battlecry and Deathrattle: Add a Spare Part to your hand.
Blackrock — At the end of your turn, reduce the Cost of a random card in your hand by (2).
The Grand Tournament — Inspire: Draw a Card.
The League of Explorers (Excavation) — Battlecry: Add a random weapon to your hand.
The League of Explorers (Museum) — Battlecry: Discover a new Basic Hero Power.
Old Gods — Battlecry: Spend all your mana, summon a minion of that cost.
Karazhan — Battlecry: Add a Karazhan portal spell to your hand.
Mean Streets — Battlecry: Give a random minion in your hand +2/+2.
Un'Goro — Battlecry: Adapt.
Frozen Throne — Deathrattle: Add a random Death Knight card to your hand.
Kobolds — Battlecry: Recruit a minion that costs (2) or less.
Witchwood — Echo, Rush.
Boomsday — Taunt. If you have 10 Mana Crystals, gain +5/+5.
Rastakhan — Rush, Overkill: Draw a card.
What will be interesting in future patches will not just be the new boards the game adds, but the new effect added to Transfer Student. This is one of those mechanics that doesn't just have an impact when added, but must be built upon going forward. Even when it's taken out of rotation for Standard play, it would still be available for Wild decks, and would still need to adapt to any new boards.
Scholomance Academy is set to release on August 6. Transfer Student is our only freebie we have have from it yet, but keep watching for more announcements and previews to see what else Blizzard is willing to experiment with in this game.