Heroes introduces new skins including Tempest Regalia Jaina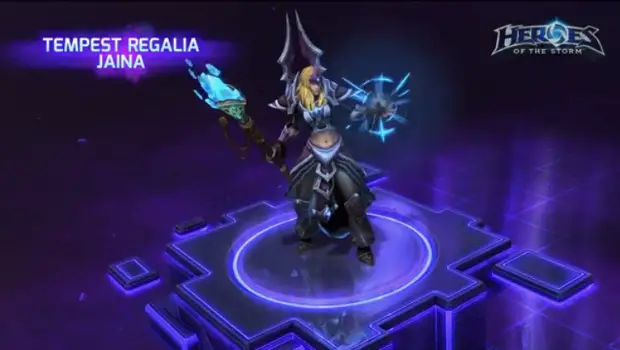 Heroes of the Storm has announced its next series of skins for sale including Archmage Jaina Proudmoore in T6 Tempest Regalia mage gear. Pricing hasn't been announced, but previous new skins along with color variations have gone for US $9.99 (as just happened with the currently available Lunar Festival skins for Chen and LiLi.)
Other upcoming skins revealed include those kings of comedy, The Lost Vikings, in Pajama Party outfits, StarCraft's Zeratul in Zerg Hunter armor and Diablo's Witch Hunter Nazeebo in Harlequin gear with his summoned undead minions enrobed as well. And let's not forget the undead Anub'arak from the Wrath expansion, who sports jaunty Love Bug reskins that make him look practically huggable. Well, if he wasn't trying to use parasites to control your mind.
Heroes is currently in closed beta, but you can get in immediately if you want to drop $40 for a Founder's Pack. The game is free-to-play so don't feel like you have to drop cash to play, it's just a way to get in early. The Founder's Pack includes heroes, skins, gold and more that you would pay for once in the game anyway to justify its cost.
Want a visual preview of all of the upcoming skins? Check out the video below produced by Blizzard.