WoW
Apr 17, 2015 7:00 pm CT
Patch 6.2 Adventure Guide preview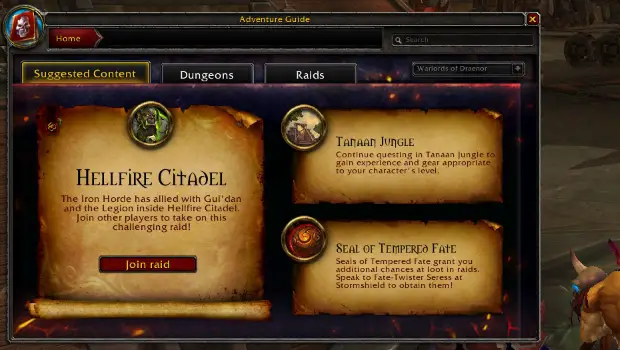 The Adventure Guide looks new, but it's quite familiar — it's the old Dungeon Journal with a new splash page of content suggestions.
The biggest pane will show a PvE group content option to partake in, nudging players into clicking the button to open up the LFG window. Players that have progressed far into Blackrock Foundry, like my warlock main, will see an offer to go into Hellfire Citadel with either a premade raid group or LFR selected, while those who just hit 100 will have an offer to start questing in Tanaan Jungle. Lower level characters — say, my level 46 monk — will see an appropriate dungeon here, and the button opens to the Looking For Dungeon pane.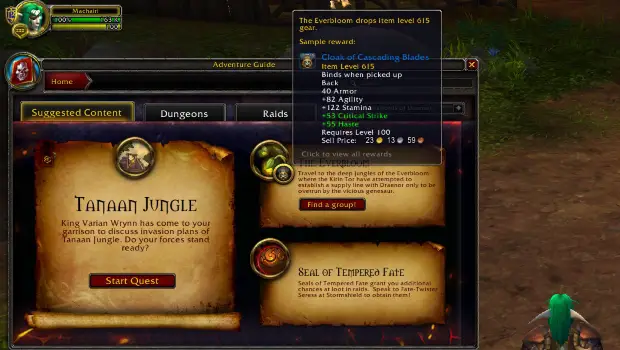 The upper right pane shows another piece of content, group or otherwise, that your character may be interested in. My main warlock saw Tanaan questing, my just-100 rogue saw The Everbloom dungeon finder, and my level 46 monk saw Random Battlegrounds for leveling. On both of the dungeon group content panes, there's an item's icon circle on top of the dungeon's circle icon. If you hover over this, the Adventure Guide will point out a piece of loot from that dungeon that your loot specialization could pick up.
The lower right pane appears to be a work in progress on my low-level monk — there's notably a lack of quest zone information for the low level monk. On both my level 100 characters, this pane just tells you about the Seal of Tempered Fate that we use for extra loot rolls in raid content.
Clicking on either of the Dungeon or Raid tabs leads you to what we know as the Dungeon Journal. You'll be greeted by the array of dungeon or raid images, where you can find more information on bosses, loot, and mechanics in each instance.
The Adventure Guide, like everything else on the PTR, is a work in progress and could change at any point. The Patch 6.2 notes for the Adventure Guide mention that "more information will be added as development continues."