Play Hearthstone with baseball pro Hunter Pence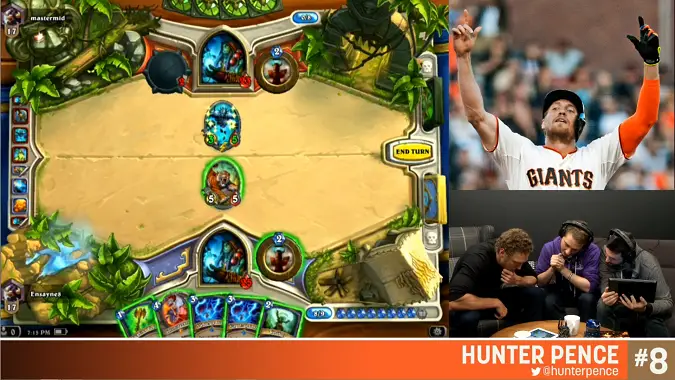 Do you like playing Hearthstone?  Are you also a baseball fan?  Neither, but still like to show off?  Then Polygon's Hearthstone sweepstakes is perfect for you!  For the next few days, interested players may enter for a chance to be one of three lucky winners who will take on San Francisco Giants outfielder Hunter Pence.  The winners' matches will be broadcast live via Twitch just under one week from today on July 9th.  Not only that, but all three winners will also receive a signed authentic Hunter Pence jersey to wear, frame, and likely brag about.
Personally, I've never managed to perform all that well in Hearthstone but the fact that winning the sweepstakes will allow for no fewer than five different "Face Hunter" puns has me considering signing up already.  If that prospect (or any other part of the sweepstakes) is something that interests you, head on over to the official entry page now.  Signing up is simple — all you need to do is enter your full name, email address, zip code, and Battle.net username.  And if you want to get a leg up on the competition, feel free to check out past highlights from Hunter's Twitch page.
For those planning to enter the sweepstakes, be sure to sign up soon!  Registration ends July 6th at 11:59 p.m. Eastern.  In order to enter, you must be at least 18 years old and a legal resident of the United States (sorry, Canada).  Good luck to all the entrants!
Now go out there and Face-Hunter Hunter in the face!