Kripparrian reveals Astral Communion for The Grand Tournament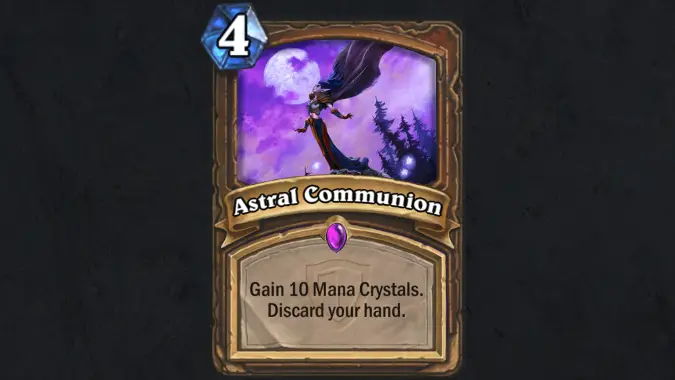 As Kripparrian himself notes in the video unveiling of Astral Communion, one of the great things Blizzard is doing with Hearthstone's The Grand Tournament is allowing community members to reveal some of the new cards. For many, Kripp and Hearthstone are one in the same — Kripparrian has been many players' introduction to Hearthstone through his videos and livestreams. Kripp may well be one of the best people to unveil Astral Communion a new Druid spell. It's a curious one: For the cost of 4 mana, you gain 10 mana crystals, but must discard your entire hand.
If you play this as soon as you're able in a game, you're taking an enormous gamble for potential enormous gain — if luck is in your favor. Though it costs 4 mana, this is Druids we're talking about. If you have The Coin, Innervate, and Astral Communion in your hand on your first turn, you could have a full 10 mana crystals on your second turn. However, you'd be throwing away your full hand and be reliant on topdecking afterwards — that is, the only card you'll have to work with is what you draw next. That could pay off if you draw something like a Ysera next turn. If luck isn't in your favor, you're looking at a disaster. If you play this, you're going to win fast or lose fast. I doubt this will see competitive play — it's too much of a gamble — but maybe we'll see competitive decks which focus on Astral Communion and includes cards which help you draw more as fast as possible, such as Azure Drakes and Nourish.