BlizzCon 2015 goody bag contents revealed by Michele Morrow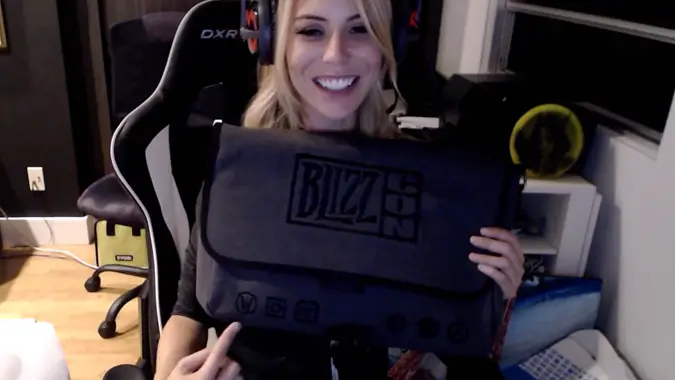 Blizzard sent some early BlizzCon goody bags yesterday and Michele Morrow excitedly unboxed it on video to show everyone what we'll receive. Included in the goody bag is…an actual bag! Blizzard's prime gift this year is a commemorative messenger bag with BlizzCon and the game logos emblazoned on its front. It appears to be nice quality and similar to the WoW 10-year Anniversary bag already present in the Blizzard Store. This bag will be doubly handy for BlizzCon in-person attendees to carry their cool swag around in the convention hall.
This year also features a couple exciting changes for goody bag availability. In previous years the goody bag has been confined to physical ticket holders, as they would pick up the bag while attending the convention. This year, however, virtual ticket holders will be able to purchase goody bags from the Blizzard Gear Store while supplies last. So if you like the swag on offer, you can get your hands on it even if you won't make it to BlizzCon in person.
Blizzard also included their usual variety of cool toys and action figures in the messenger bag as well. Check out Michele's unboxing video below to see everything in its full glory. The contents of the goody bag are as follows:
BlizzCon messenger bag
Murloc Illidan pin (Murkidan)
Hearthstone luggage tag
Inflatable StarCraft psi-blade
Overwatch badge (coaster?)
Diablo keychain, much like the Cute But Deadly Diablo figurine from BlizzCon 2013
Heroes of the Storm vinyl figures
Elite Tauren Chieftan figure, a lá the current Heroes of the Storm skin
I'm particularly excited about the StarCraft psi-blade, as I have a couple of inflatable Frostmournes that were quite a bit of fun at previous BlizzCons. There's nothing quite like beating your friends with inflatable weapons. The action figures small and unobtrusive, a nice touch to add to a desk or a shelf. I have mine from previous BlizzCons sitting in a row under my windowsill.
Check out the full unboxing in the video below!