Breakfast Topic: What are your favorite Kanai's Cube trio of powers?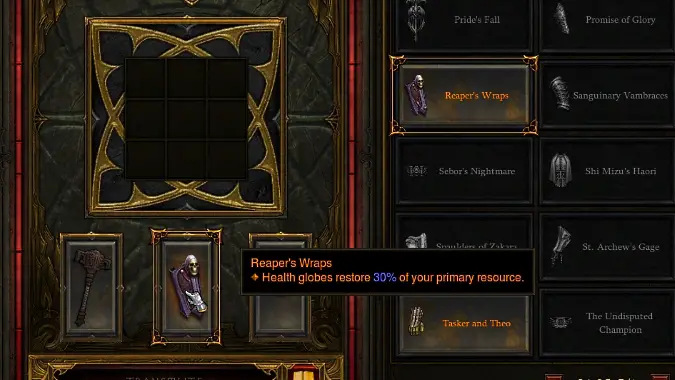 Possibly the biggest feature for Diablo 3's Patch 2.3.0 content is Kanai's Cube, with a focus on the one recipe for extracting special powers from legendaries and using them passively in addition to your equipped gear. You can have three powers activated at any time: one weapon, one armor, and one jewelry.
On my Witch Doctor main, I cubed what I had lying around:
The Furnace (2H Mace) — Increases damage against elites by 50%.
Tasker and Theo (Gloves) — Increases the attack speed of your pets by 50%.
Bul-Kathos's Wedding Band (Ring) — You drain life from enemies around you.
I cubed an extra version of my current amulet, Overwhelming Desire, in case I get a Hellfire Amulet with a class passive I want. But for now, I'm happy, since the 15 Fetish Sycophants spawned by my Belt of Transcendence tend to melt anything they run over.
My alt Barbarian prefers a slight alteration. She'll continue to take The Furnace's boost for elite damage, but she wears different armor and jewelry powers.
Reaper's Wraps (Bracers) — Health globes restore 30% of your primary resource.
Ring of Royal Grandeur (Ring) — Reduces the number of items needed for set bonuses by 1 (to a minimum of 2).
The ring option works especially well when it turns her 2-piece Aughild's set into the full 3-piece set bonus. Once she out-gears the Reaper's Wraps, I imagine she'll put on a Spaulders of Zakara so she'll never have to repair again. Kanai's Cube has yet to be out for a week, but if you've already compiled favorite sets of Cube powers, share them in the comments below.