WoW
Dec 2, 2015 5:00 pm CT
Is the new Legion beta Fishing artifact a sign of more profession artifacts?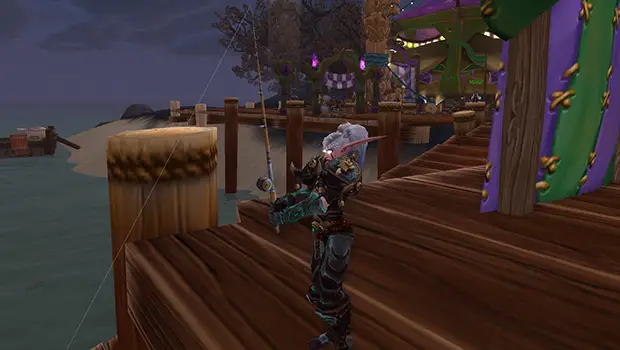 Yes, there is a Fishing Artifact currently in the Legion beta files, the Underlight Angler. Now there is a trait calculator available for you to see what new skills you can acquire from leveling the item. But this new non-class Artifact raises more questions than it answers.
First let's look at the skills. The base trait of teleporting to the nearest fishing node is worth the price of admission all by itself. The Minor traits mostly relate to increasing your chance of catching certain fish in the Broken Isles along with a few utility traits like being able to walk on water and increase the duration of your lure and bait.
The Major traits are all interesting in different ways. Bloodfishing implies that this major trait may be the only way to catch the Blood of Sargeras fish. Fishrender's Blessing transforms you into a fish with increased movement speed and underwater breathing. And Fishbane increases your damage against underwater creatures.
All of these traits will help you in your Legion fishing endeavors. So are we going to see other profession Artifacts? On the one hand, Fishing is the only profession that requires to you hold an item in your main hand to ply your trade, so it's a natural fit for an Artifact. On the other hand, it would be great for all professions to get a special item that increased their crafting power over the course of the expansion. On the other other hand, leveling your class Artifact may be a big time sink as it is and who wants to level a secondary artifact just for your profession?
Personally, I'd like to see an Artifact for every profession. Think of a smithing hammer of glowing runes or a legendary alchemy crucible. Of course, other professions would have a harder time. An epic sewing needle? The Apocalyptic Paper of Inscriptionation? Either way, Fishing will get a nice bump come Legion launch time.