Heroes: Haunted Mines map will not return without rework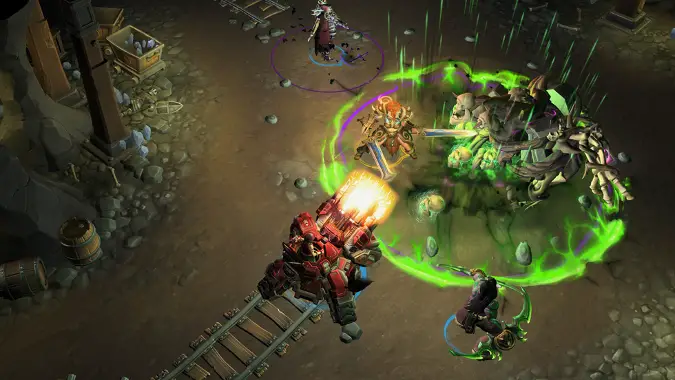 The Haunted Mines map in Heroes of the Storm was removed from the map rotation with the introduction of Towers of Doom. Though many players expected Haunted Mines would return in a future map rotation, Game Director Dustin Browder has confirmed the map has been cut outright. Haunted Mines will not make a comeback until it's undergone an overhaul — which is not currently in the works. Whether or not the Haunted Mines will ever return, we don't know.
Will try to be more transparent. Haunted Mines is cut. Will not return without rework. We are not working on it now. https://t.co/7vGr8jptjz

— Dustin Browder (@DustinBrowder) January 13, 2016
While Haunted Mines undoubtedly had its fans, players — particularly players with an eye on competitive play — saw the map as flawed. The golem respawning where it last died turned every game into a base race — encouraging a team to only play aggressively in one lane out of two. The golem often prevented teams from making an effective comeback after early blunders, too. On a map such as Towers of Doom, a team can make a comeback by preventing the opposing team from claiming altars. In Haunted Mines, a golem would always spawn — maybe one wouldn't be as strong as the other, but it would spawn. The game wasn't over when your core was destroyed; the game was over when a golem reached your core. Even if you killed it, the next time it spawned, it would do so right on top of your core. Pushing it back wasn't possible. Inevitably, that golem would end the game.
In addition, secondary objectives such as mercenary camps were counterintuitive; the bruiser mercenaries would progress down a lane which didn't contribute to the focused aggression the map required. The bruiser mercenary camp was considered a newbie trap — only players who didn't understand the map would put any effort into capturing it. Even in casual play, it wasn't unusual to see situations where new players tried to rally the team to capture the bruisers because they thought it presented a good opportunity, but became frustrated when more experienced players ignored them. Meanwhile, those experienced players are frustrated because the newer players don't yet understand the bruisers don't meaningfully contribute to the fight. While nearly every map in Heroes of the Storm has at least someone who isn't a fan, Haunted Mines was likely the only map where capturing a secondary objective at any point in the game could be detrimental to your team's success.
The close quarters combat in the mines themselves were the highlight of the Haunted Mines map and losing that is an unfortunate thing. Personally, I'd rather we see a revamped Haunted Mines one day rather than leave it forgotten. Just because the developers aren't working on it now doesn't mean they never will — but it doesn't mean they eventually will, either.