Hearthstone nerfs select Basic and Classic cards
Updated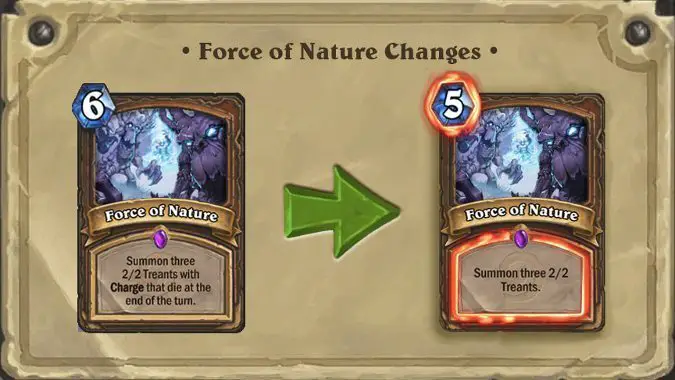 The Hearthstone team has announced a round of changes to select cards in the Basic set in preparation for Whispers of the Old Gods. When the Wild/Standard split was announced, these cards in particular were a point of concern for existing players — some Basic and Classic cards are extraordinarily powerful, and if a rotating Standard mode was a way to shake up the game, those powerful standouts would be a roadblock. For example, if the Force of Nature/Savage Roar combo was never phased out of the game due to both being Basic cards, Druid decks would use that burst damage combo until the end of time. As you can see above, Force of Nature is the target of one of these changes — but there are many more where that came from.
Update: You'll be able to disenchant these cards for full Arcane Dust value until May 10 — presumably at midnight Pacific. If you're planning on disenchanting any, get on it!
The following cards are slated for changes:
We strongly suggest checking out the Hearthstone team's blog post on this subject where they go into great detail about the reasoning behind these changes. In some case, we wonder if it will be enough — Big Game Hunter's increased mana cost is a hurdle, yes, but he'll continue to be a thorn in the side of the game's big minions. Big Game Hunter alone has been a deterrent to playing the big game changers such as Deathwing; they aren't such game changers if they're eliminated so easily. New beefy beasts such as Y'Shaarj may still see a 5 mana BGH as an insurmountable threat.