Nefarian Rises in Hearthstone's Tavern Brawl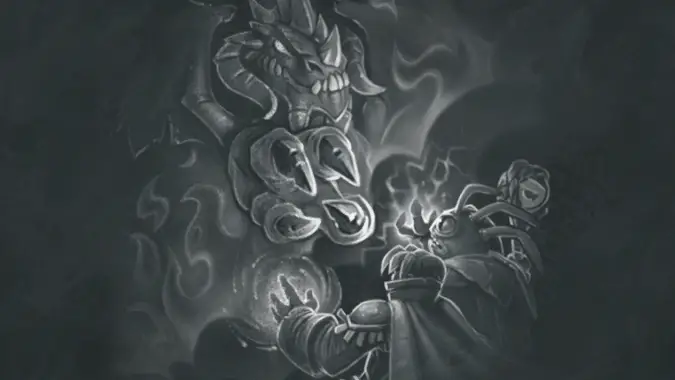 This week's Hearthstone Tavern Brawl is co-op brawl Nefarian Rises. In this brawl, two players — playing with Priest or Shaman decks — work together to bring down classic raid boss Nefarian. Healing is the name of the game in this brawl, as Nefarian throws around tons of damage, which only ramps up over the course of the battle.
I found this Brawl surprisingly tough, though fair — despite my random partner and I making a few stumbles, turning the Brawl into a grueling 20+ minute slog, we still managed a victory in the end. We made the mistake of not realizing the Nefarian encounter has three phases: Once you bring Nefarian's health low enough, he goes immune and gains more powerful abilities. We'd buffed some of our earliest minions to high heaven, knocking huge chunks off of Nefarian's health with Windfuries, only for him to wipe them off the map at a phase switch. Then, repeating the process, he went immune again at 60 health — right after we'd Bloodlusted him into lethal range. Only one of those Bloodlusted minions were able to get a hit in until he again wiped them all out at the phase change.
At that point in the match, we'd exhausted most of our heavy-hitters, purely because we didn't expect those minions to get wiped. We only managed to succeed because my Priest copied the Shaman's Fjola Lightbane. We had just enough buff spells left to keep her alive and whittle Nefarian down.