Overwatch holiday event coming December 13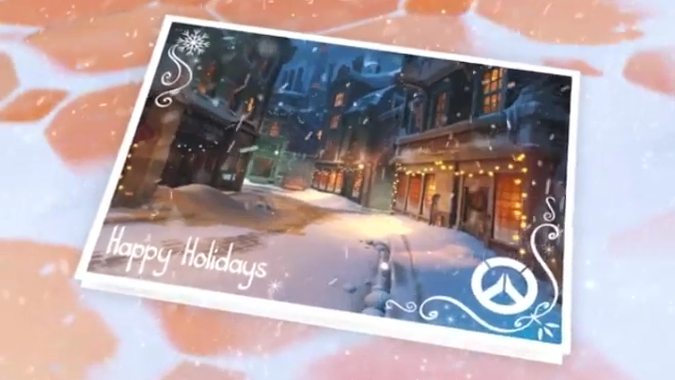 Overwatch has begun teasing a new holiday event set to begin December 13. An invitation was sent to everyone via Twitter:
You're invited! pic.twitter.com/MQZPZOW4Y1

— Overwatch (@PlayOverwatch) December 6, 2016
The card in the short video features a snowy King's Row, but observant fans notice the tiles on the ground beneath the card are not from King's Row, but likely Nepal. The rumor mill is already abuzz with what might be included in this event, spurred on by datamining from a user on the Facepunch forums.
There are 4 new map files, so,

1) There will be an event, like Junkenstein's Revenge.

2) There will be at least 1 Christmas/Holiday-themed map. There might be up to three. (Possibly celebrating different holidays?)

Assuming items listed in Event_3 are Christmas event items:

3) Everyone will be getting a spray, a voice-line, and a victory pose, just like in Halloween.

4) The following people will also get either a costume, an emote, or a highlight intro:

Widowmaker
Reinhardt
Mercy
Symmetra
Reaper
Sombra
Roadhog
D.Va
Ana
Soldier: 76
Lúcio

5) The following people will have two of the following: a costume, an emote, and a highlight intro:

Winston
McCree
Mei
Pharah
Zarya
Tracer
Zenyatta

And then there's Torbjörn… Who is getting an emote, a costume AND a highlight intro. (Santabjörn confirmed?)
While the accuracy of this datamining remains to be seen, fans of Blizzard Entertainment's games have become particularly adept at scraping every last detail out of the game files. Santabjorn, at least, isn't far-fetched given this tweet from 2014:
♫ Let it snow! Let it snow! Let it snow! ♫

Happy holidays from the #Overwatch team! pic.twitter.com/PN18TgYXxv

— Overwatch (@PlayOverwatch) December 24, 2014