Hearthstone Innkeeper's Tavern Cookbook hits shelves November 7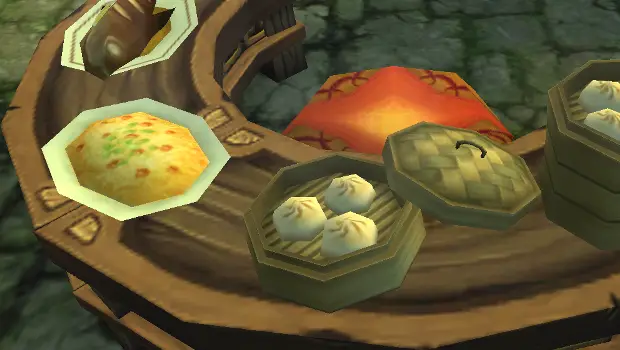 If you liked the official WoW cookbook, you'll be excited to know the same author is now putting out another with a Hearthstone theme! Hearthstone: Innkeeper's Tavern Cookbook is currently available for pre-order, and will hit shelves on November 7.
This cookbook has six recipes to look through in the Amazon preview, which includes a cheese plate named after the Proudmoore family and a Bloody Mary with an Old Gods twist. The recipes are generally classics with Hearthstone details pasted over them. Changing the filling of a traditional Bûche de Noël to a radioactive blue so the swirl looks Hearthstone-ish, for example.
The author tries to use artistic flourish within the recipes to shoehorn some recipes into Hearthstone, as with the Polymorph Puffs. They only work for the sheep-y theme if lamb sausage is used as opposed to the beef or pork in traditional British sausage rolls. In the printed recipe, she crosses out 'beef' and adds 'lamb' in a hand written font, making the end result more confusing than helpful. I'm not sure why she didn't go with, say, lollipop lamb chops. Those are easy to prepare, not too hard to find in most markets, and are a great little bite in one hand for a party where you might do something like playing cards on your phone. Even editorial things like kerning and fonts were off and sometimes tough to read, which we noted was an issue in the WoW cookbook as well.
If you're looking for a kitchen setpiece or need a gift for somebody, this book will be perfect for you, and you can pre-order it right here. However, if you're looking for Hearthstone cooking, it seems like you'd probably be better served by just leafing through your cards in-game and googling for real recipes that might correspond.