Which Legion NPC gets stuck with your vendor trash?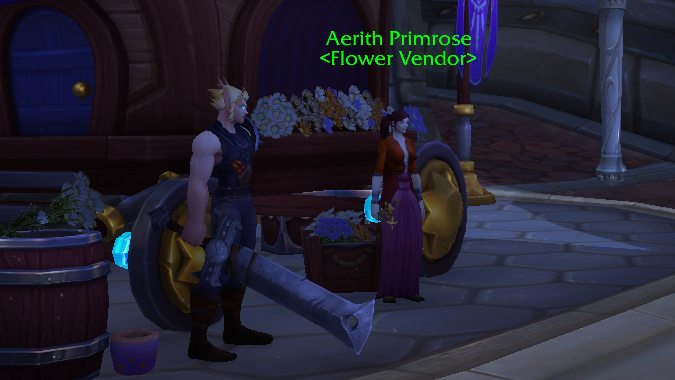 Whether out of personal choice of simple convenience, there's one NPC in every expansion who always gets stuck buying our garbage. For me, the Legion NPC who gets that dreadful task is the Final Fantasy VII homage Aerith Primrose. When I hearth back to Dalaran after a long day of adventures, she's the first person I visit, whereupon I heap all of the random garbage bags upon her feet for a bit of gold. Aerith is the closest vendor to Krasus's Landing, so it seems obvious it would be her — but I started to wonder if there was more to it.
During Wrath of the Lich King, I played Alliance. Back then, the banks were faction-specific. The Alliance could only use the bank closest to the current Greyfang Enclave, while the Horde could only use the bank closest to what is now Windrunner's Sanctuary. Even though the banks aren't faction-locked anymore, it's still muscle memory to turn left from Krasus's Landing toward the Greyfang Enclave bank. Aerith isn't just closest to Dalaran's hearth location, she's on the path to Greyfang Enclave.
For the sake of experimentation, I took a right turn from Krasus's Landing, and I wonder if long-time Horde players are more likely to use Aimee the Baker as their vendor trash heap.
Sate my curiosity, readers: who gets your vendor trash? Is there a reason why you use that vendor? Or maybe there's no consistency to your routine at all. Tell us!