Junkrat, Hallow's End and more coming soon to the Nexus in latest development video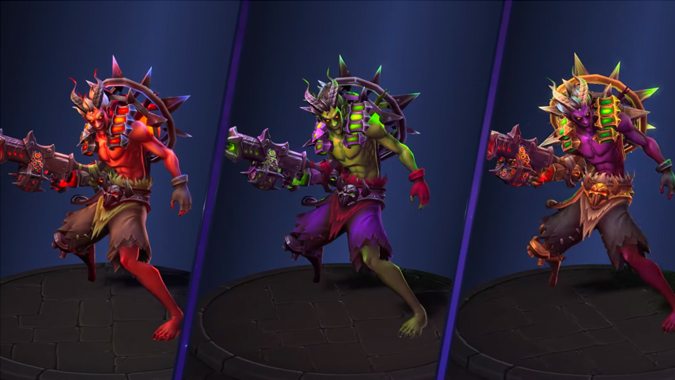 Heroes of the Storm is about to get spooky. The latest in development video features Junkrat, first seen in the Ana and Volskaya announcement. It appears his arrival to the Nexus is coming very soon. "It's a perfect day for some mayhem!" and Junkrat is ready to give it to you in all the wacky colored skins. He even looks a little Joker-like in the purple and green edition. But if neons aren't your type, he comes in a Fallen flavor as well to get your demonic satyr mischief going.
Hallow's End is also coming to Heroes in full force and everyone is dressing up, now matter how, uh, creepy (looking at you, Murky). It looks like we're going classic gothic with a Dr. Jekyll/Mr. Hyde themed Greymane skin, and a Vampire Slayer skin for Valeera. Some people clearly didn't put as much effort into their costumes (cough cough Gazlowe and your sad paper bag), but by golly the Phantom Stallion tried. He looks so cute in his spooky ghost blankets that you just really want to fill up his Hallow's End bucket with apples. If the ghost isn't spooky enough for you, he even has a full-on skeleton variant.
Hallow's End themed sprays, portraits, and emojis accompany the plethora of new skins for the holiday. Guys, there are pumpkin characters! I never knew that I needed an angry Illidan mask on a pumpkin, but here we are. Check out the full in-development video for all of the Hallow's End goodness. They've really outdone themselves in getting into the spirit of the season.