Lucio and Reinhardt join Panser and Chris Hardwick to host BlizzCon Community Night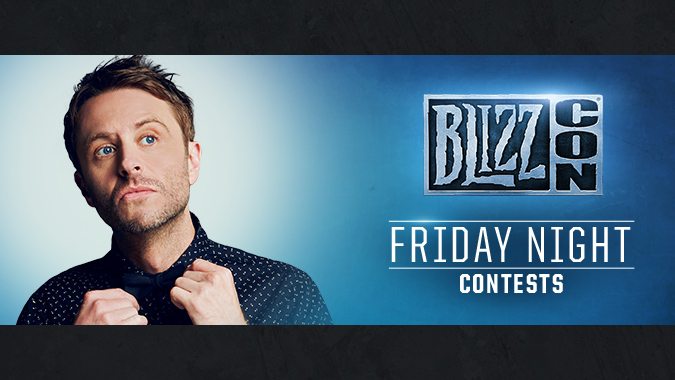 With BlizzCon just a week away, Blizzard Entertainment has finally announced their hosts for this year's Community Night — that is, the Costume, Talent, Art, and Movie contests. Comedian Chris Hardwick will be running the show once again this year with three special judges for the talent contest: Overwatch voice actors Darin De Paul (Reinhardt) and Jonny Cruz (Lucio), along with TradeChat and Wowhead Weekly host Panser.
It's almost time for BlizzCon, which means this year's Community Night—featuring the Costume, Talent, Art, and Movie contests—is fast approaching. This year, we're doing something a little different: the Talent Contest will be judged live by a trio of special guests! Here's who we've got in store for Friday night.
Friday Night Host
Chris Hardwick
This year's Community Night will be hosted by comedian, actor, and Nerdist CEO Chris Hardwick. He also serves as executive producer and host of NBC's hit game show The Wall and as host and executive producer of the AMC's highly-rated Talking Dead and Talking with Chris Hardwick. Chris is in the midst of a national standup comedy tour and is stopping by BlizzCon once again to share his hosting talents with the Blizzard community. Catch up with him on Twitter @hardwick.
Talent Contest Judges
Darin De Paul
Darin De Paul voices Reinhardt, Warchief Blackhand, Anub'Arak, and more of your favorite Blizzard characters. He currently co-hosts Darin & Amy Have To Do A Morning Show with Amy Vorpahl. Catch him on Twitter @DarinDePaul.
Jonny Cruz
Jonny Cruz voices Lucio in Overwatch and Heroes of the Storm. He's working as a producer, actor, and director, practicing improv, and keeping his chill vibes with lots of crystals. Find him on Twitter @JonnyCruzzz.
Panser
Panser is a well-known personality in the online gaming community. She's a talented host and content creator with nearly half a million YouTube subscribers on her World of Warcraft-focused channel, TradeChat. You can find her on Twitter @TradeChat.
Community Night kicks off at 6pm PT on Friday, November 3—watch it LIVE with the BlizzCon Virtual Ticket.
Chris Hardwick is a BlizzCon veteran at this point, having hosted the show for the first time back in 2014. Meanwhile, Panser has not only been a long-time content creator in the WoW community, but she hosted the World of Warcraft Q&A panel at last year's BlizzCon. Where Darin De Paul and Jonny Cruz are concerned, they might be new to hosting BlizzCon, they've been guests at the convention before — and are already fan favorites in the community.
It's clear Blizzard continues to ride the popularity of Overwatch in their choice of hosts, but we can't say it's a bad choice, either. Both Darin De Paul and Jonny Cruz are, frankly, charismatic as hell. Bolstered by seasoned hosts Chris Hardwick and Panser, it should be a great show to watch.