WoW
Nov 2, 2017 11:00 am CT
Witness a new reign of terror with the 2017 Pumpkin Carving Contest winners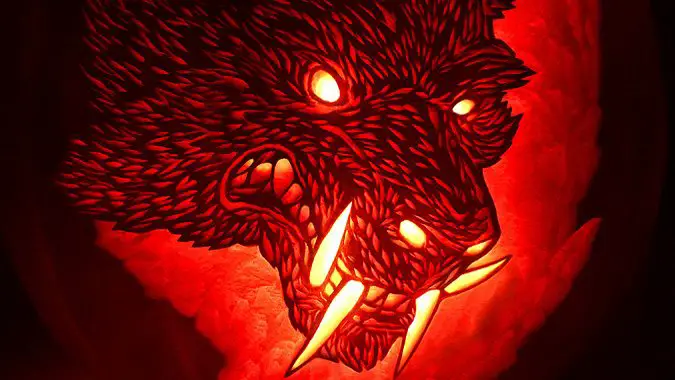 People can cut some impressive designs into pumpkins. I'm always a little amazed when I see the depths of artistry some of you are capable of executing using a gourd. The folks at World of Warcraft must agree, because this year's Pumpkin Carving Contest has finally announced the winners, and they're a pretty amazing bunch all told.
I think my personal favorites are Shadow the Fox, carved by Nicole Honder of Edmonton (perhaps I'm very slightly biased because I live in Edmonton too) and Pablito Tumbos' excellent Worgen pumpkin, but they're all pretty spectacular. Mark Zolton represented for Rogues with his pumpkin, which I have to admit is extremely detailed even as I dislike the subject matter. (It's been thirteen years and I still haven't gotten over the vanilla Warrior/Rogue rivalry, I guess.) Raine Pye actually carved three pumpkins for this Smoldering Ember Wyrm which is going above and beyond, and the claw pumpkins by themselves probably deserved a win. And finally, Erin Murphy decided to creep me the heck out with this very well done rendition of an Ur'zul from Shadows of Argus in pumpkin form. Erin, you're a supremely gifted artist and your subject matter is worthy of Heironymous Bosch.
There are a host of excellent Honorable Mentions, too — I'm not sure why someone carved an Overwatch pumpkin for the WoW contest, but I understand that you get an idea and run with it sometimes. I'm more than a little envious of this level of skill at a visual art like this — some of these entries are effectively relief sculpting that one might actually wish had been done in some other material than pumpkin, because they're not going to last long enough for us all to get to appreciate them. Still, what we have now is exceptional and should be appreciated. Congratulations to all the winners and I hope we'll get to see some of you back next year.