WoW
Nov 8, 2017 2:00 pm CT
This beautifully detailed Sylvanas statue will hit you for $350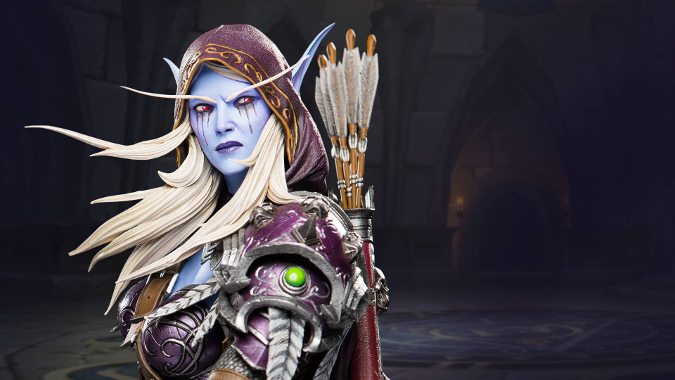 Did the Battle for Azeroth cinematic make you fall in love with Sylvanas all over again? Did it make you $350 fall in love? If so, Blizzard has a collectible just for you: an 18-inch hand-painted, polyresin sculpture for a cool $350 USD.
While this statue is well out of my price range, the pictures make it seem like a solid collectible for those who can afford it. The statue's store page provides a variety of close-up shots, and the details are truly impressive. The battle damage on her armor, her tattered cloak, and even the grain on the leather parts of her outfit all look fantastic. Heck, even her running mascara looks pretty good — though, that may just be festering undead eye goop.
Each statue is individually hand-painted, however, and while the sample shots look amazing, every statue will vary at least slightly. If you're willing to take that risk with $350, more power to you. And if, uh, you want to take less of a risk for much more money, you can technically by up to ten (!) of these things. My budget is more suited to this cute $25 bag, though I'm not sure if I can pull off such a fashion statement.
This Sylvanas sculpture is brought to you by much of the same team who designed the Illidan statue, which costs the same price and, together with the Sylvanas statue, would make for quite the conversation-starter.