This week's Hearthstone brawl will reward three Frozen Throne packs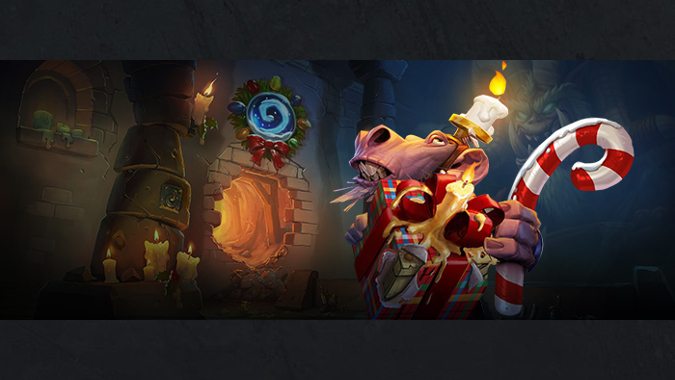 What's that, li'l Timmy? You want Kobolds and Catacombs card packs for Winter Veil? Too bad! Knights of the Frozen Throne cards are far more festive, so this week's Hearthstone Tavern Brawl will reward players with three Frozen Throne card packs.
Better than Classic packs, at least.
Joking aside, this week's Tavern Brawl comes with a Winter Veil twist: Gifts will spawn on each player's side of the board, and breaking open gifts on your opponent's side of the board will give you a Legendary card that costs three fewer Mana Crystals to play. While only four gifts spawn for each player at the start a match, additional gifts will appear throughout the game. In addition to the Brawl, the Stormwind and Orgrimmar gameboards have been dressed up for the season, and heroes once again have their Happy Winter's Veil greeting emotes.
'Tis the season! In celebration of Winter's Veil—and to give all you adventurers something to do that doesn't involve taking candles—Greatfather Kobold has prepared a special distraction, er, Winter's Veil tavern brawl packed with wacky, waxy gifts!
These treats aren't just on the game board! The reward for winning your first game of this Tavern Brawl is THREE festively frosty Knights of the Frozen Throne card packs!
Greatfather Kobold's helpers have been busy decorating the Orgrimmar game board for the tavern brawl, but you can also experience the holiday in Stormwind while enjoying other play modes. And no matter how you play, don't forget to show your opponent some holiday spirit with the return of the Happy Winter's Veil greeting emote!
The Rules
Greatfather Kobold will drop off some tastefully wrapped, candle-bearing gifts on turn one—four on each side of the board, for a total of eight. If you unwrap a gift, you'll receive a Legendary minion that costs three fewer mana to play! Greatfather Kobold will keep the celebration going by periodically parachuting in more presents. Don't be greedy, though! You'll only get a discounted Legendary minion from the gifts Greatfather Kobold left on your opponent's side of the field.
How will you build your deck to make the most of these potent presents?
The Wacky Waxy Winter's Veil brawl begins December 20 and lasts through December 24, so be sure to drop in and celebrate!
A very Happy Winter's Veil to you and yours!
Personally, I would have been more excited by the prospect of random legendaries a few expansions ago, before the legendary pool was watered down by highly situational stinkers. Getting a surprise Ragnaros is a thrill — a surprise Patches is just sad. That said, free stuff is free stuff, and I'm not going to look a gift horse in the mouth.
Remember: If you want your Frozen Throne card packs, this Tavern Brawl only runs for a total of four days: December 20 through December 24. Get your games in early and don't miss out due to an unusually short run time.