Golden and Spectrum Cybersteeds added to Heroes 2017 Ranked Season 3 rewards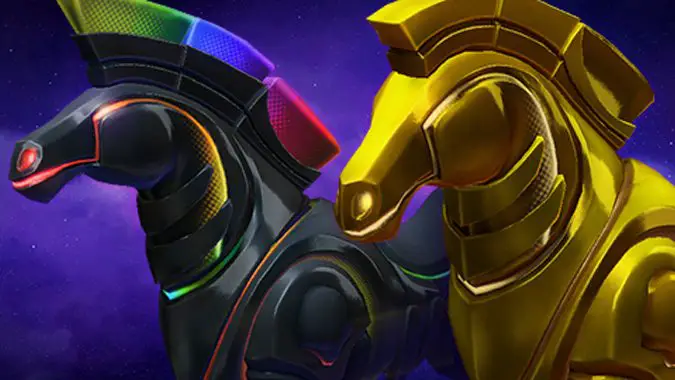 Heroes of the Storm players can expect some new 2017 Ranked Season 3 rewards — the Season that ended about a month ago — if their rank earned during that season was high enough. Players were understandably disappointed when the Golden and Spectrum Cybersteeds weren't included as ranked rewards. Both mounts initially appeared on the 2017 Ranked Season 3 blog last September, but their appearance was apparently a mistake. The mistake and the blog were later corrected, but that didn't really help the players who worked hard to earn those specific mounts.
However, Blizzard decided to make things right. In the next few days, players who would have normally earned the mounts in Ranked Season 3 will be granted the Cybersteed variations — both normal and epic versions. This is, of course, contingent upon rank earned during 2017 Season 3.
In Hero League, players who earned Platinum or higher will get the Golden Cybersteed and the Spectrum Cybersteed, while players who earned Master or higher will also get the epic variations of both mounts. In Team League, Bronze or higher will net you the regular versions, while Master or Higher will award the epic versions.
This is honestly a really classy move on Blizzard's part. They stated it's because they feel it's important that players trust they'll follow through on the information Blizzard shares in regards to Heroes of the Storm — Ranked rewards included. Handing out the Golden and Spectrum Cybersteeds certainly takes care of that.
But beyond that, it also shows that the Heroes team wants to make sure that players are treated fairly, in any situation. Mounts might not seem like a really big deal, but it's these little gestures that show the team is invested in giving players a great game to play, and a great gameplay experience.