Maiev on the PTR, Lunar Festival incoming, and more with this week's Heroes rotation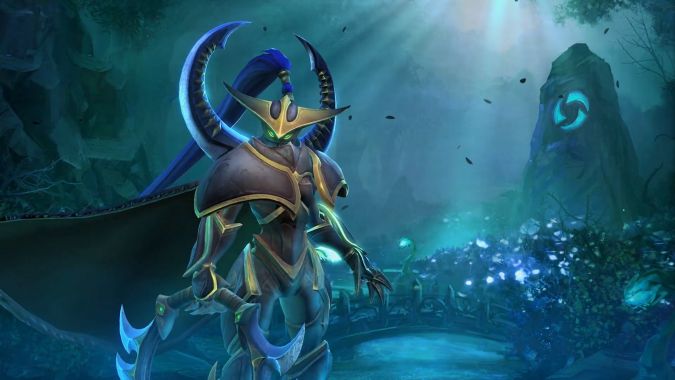 Unlike last week's brief silence on the Heroes of the Storm front, there's a lot to be excited about this week: newly announced hero Maiev is on the PTR along with a Malthael overhaul and Lunar Festival is right around the corner.
Our excitement for Maiev knows no bounds — we've hoped for her addition to the Nexus since the inception of Heroes of the Storm and so far she looks like a great tribute to the character we know and love from Warcraft 3. More, as an anti-mobility hero, hopefully she'll be able to rein in dominant high-mobility heroes such as Genji.
In addition to all of the news, of course, there's a new free hero rotation in action today. Jaina, Tyrande, Ana, and Muradin are amount my favorites on this list — though Gul'dan is often overlooked and underestimated. If the aforementioned Genji plague is giving you trouble, he's the mage hero most capable of standing up to them. Though he has no mobility outside of a single high-level talent, Drain Life means he can theoretically tank through getting jumped until his teammates can respond and let him go back to laying down the pain.
Free Hero Rotation
Raynor
Muradin
Sonya
Nazeebo
Uther
Jaina
Tychus
Anub'arak
Gul'dan
Arthas
Tyrande (Slot unlocked at Player Level 5)
Cassia (Slot unlocked at Player Level 10)
Sgt. Hammer (Slot unlocked at Player Level 15)
Ana (Slot unlocked at Player Level 20)
Hero Sales
The Lost Vikings — 375 Gems
E.T.C. — 150 Gems
Featured Items
Toon Pajama Party Lost Vikings
Platinum Glam Metal E.T.C.
Clowning Junkrat
Durotar Wanderer Chen
Kaldorei Spellbreaker Johanna
Blood Elf Tyrande
Grassy Deputy Valla
Zergy Pajamathur Abathur
Frozen Road Boar
Neon Spectre Phantom
Weekly Brawl