New Overwatch toys and figurines coming to Toy Fair 2018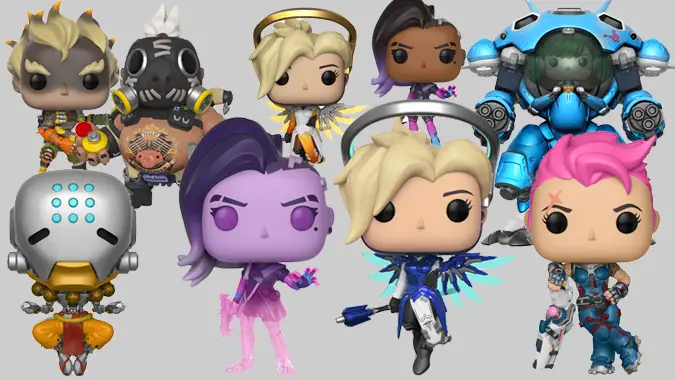 Though first announced in late January, Funko Pop showed off its new assortment of Overwatch figurines at this year's Toy Fair. The latest lineup includes:
Junkrat
Mercy
Zarya
Sombra
Zenyatta
In addition to those five, a 6″ jumbo-sized Roadhog figurine will be landing sometime in March. But that's not all! Hot Topic, GameStop, and Walmart will each receive an exclusive variant of select figurines:
Can't get enough of the newest wave of Overwatch Pop? New figures were announced today at Toy Fair! pic.twitter.com/eYxh2hCQpu

— Blizzard Entertainment (@Blizzard_Ent) February 16, 2018
While I'm no fan of retailer exclusives, I admit, my principles are on the line here. I'm an absolute sucker for Sombra, and a cool variant on her figurine is incredibly tempting — though I might be able to resist its siren call on the basis of a loss of color. The variant's transparent elements are awesome, but the base model keeps her appropriate skin color and the amazing blue accents on her outfit.
That blue Mercy is mighty tempting, too. That tint is like a Blizzard Watch jersey, right?
Meanwhile, Blizzard Entertainment teased an expansion of its Overwatch Cute But Deadly line of figurines on Twitter. Target will be receiving an exclusive Lucio in his Roxo skin:
Did someone call for an audio medic? 🎶 Roxo Lucio is coming soon, exclusively at @Target! pic.twitter.com/cOGx4f0yWF

— Blizzard Entertainment (@Blizzard_Ent) February 15, 2018
Interestingly, standard-sized Cute But Deadly figurines have typically been sold as blind boxes only. This Target exclusive is a variant on the Lucio found in blind boxes — and if that big grin wasn't so terrifying, I'd be tempted to buy it simply because I can actually see it. The Cute But Deadly line has always interested me, but since I can't see what I'm getting beforehand, I've never spent a dime on them.
Seriously, though, look at that smile. That's the stuff of nightmares. That's not an audio medic. That's a man prepared to end my life.
And speaking of smiles, Good Smile Company was also present at this year's Toy Fair, though they had no new announcements on the Overwatch front. The D.Va Nendoroid is still only available for pre-order, and Tracer, Mei, Mercy, Genji, and Hanzo are all already available.