The Queue: Can't I?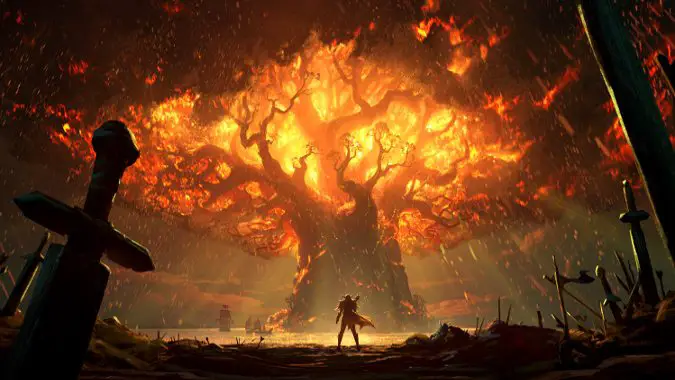 I have a feeling today's going to be a pretty big day in the World of Warcraft.
With that in mind, whatever does happen today, please tag your spoilers in the comments!!! As excited as you may be to discuss things, not everyone will be able to experience them until later today or tomorrow.
Understood? Good! Let's Queue.
---
HUSSKIES, I THOUGHT SO, TOO…
So, after we've had the discussion last week, we came up with the conclusion that today's warbringer short would be Sylvanas'. I'm not so sure anymore because in Sylvanas' short story we can see Teldrassil burning, as seen in the trailer, I really don't think they would want to say or show anything about that before it's actually happened in the game, right? Maybe today is Azshara after all.
Well, I'm writing this late enough that I can say, it's Sylvanas' short. But I didn't think it would be. I thought it would be Azshara, and we'd see Sylvanas' short next week when the Alliance attack Lordaeron. So now I can't help but wonder what the heck Azshara's is going to revolve around…
---
SPENCER MORGAN, YOU JUST… KEEP DOIN' YOUR THING…
Mitch is halloween, Mitch is Halloween.
Halloween Halloween (Mitch is Halloween).
O…kay….
(This song is totally gonna be stuck in my head now, thanks.)
---
KALCHEUS ALSO HAS A QUESTION ABOUT WARBRINGERS:
So the next Warbringers isn't up yet. Do we think this is due to:
1) Someone forgot to set their alarm this morning
2) Blizzard scrambling to add a shanty to the video
3) There is no third thing
4) ???
5) Profit!
I had a theory that it tied very closely to today's events and that's why it wasn't out yesterday. It was kind of correct, but not entirely. I thought it would be Azshara's.
---
MYTHRIAK WANTS THE BIOWARE TREATMENT:
[Mental thought] The Horde experience (and thinking about now… the Alliance too) in these 2 weeks should have a prompt before asking if your character would agree to partake in such actions. And if you don't, send you straight to the World Quests part of it (as it do with any alt after your first time).
Q1: Do you think this should be "a thing" on these "morally oblique" questlines? After all, someone will do it, even if you, one of their champions, won't.
Q2: Would you opt out to participate in an important story questline just because of conflictual morals? In every character, or just the ones you think that wouldn't do it?
I think players would appreciate if it were a thing, but I don't think you should be able to outright skip stuff. I always point to "Do the Right Thing" when people bring this sort of thing up, because it's a quest that ends the same way no matter what, but it at least gives you the illusion of choice.
Probably not. It doesn't bother me as much as it bothers some people. It's a game. If I feel bad about doing a certain quest, then the writers of that quest have still made me feel something. Intended feeling or not, that's better than indifference.
---
JDMAC HAS A QUESTION NOT RELATED TO TODAY'S EVENTS:
Question for the Queue: For those of you who use a voice client to communicate with guildies or others inside WoW, which software do you use?
Blizzard Voice Chat? Ventrilo? Discord? … or something else.
What is your observation of the quality of your preferred choice compared to something else?
/salute
4Azeroth
It varies depending on which group of friends I'm chatting with. I use Discord, Mumble, and Blizzard Voice Chat. Only real observable difference I've noticed is that Discord can sometimes have issues with ping — which the admin can then just (try to) solve by changing the server's location.
---
LOTHARFOX, GOOD NEWS!
After Teldrasil burns tomorrow (presumably), do you think we'll still have the Darkshore WQs available? Or they'll be gone, and we'll have WQs in a new zone?
I can confirm: We have World Quests in Darkshore still.
---
MYTHRIAK HAS A SIMILAR QUESTION:
Q4tQ: Do these world quests end once the B4A gets live?
To my knowledge, they disappear — these are pre-expansion content and will go away once BFA launches. Get your easy 210 gear (and transmog) while you can!
---
MISTAH JAY PROVIDES SOME LEVITY:
2BE: Nova vs Widowmaker
2 Games Enter: SWTOR vs KOTOR
I think Widowmaker might win, but I prefer Nova. So Nova gets my vote.
I have no idea. Never played either, so… KOTOR? Sure, let's go with that.
Okay, final reminder: Tag. All. Spoilers.
(And, please, keep things civil.)