Redditor turned Overwatch sprays into easy-to-follow pixel patterns for crafting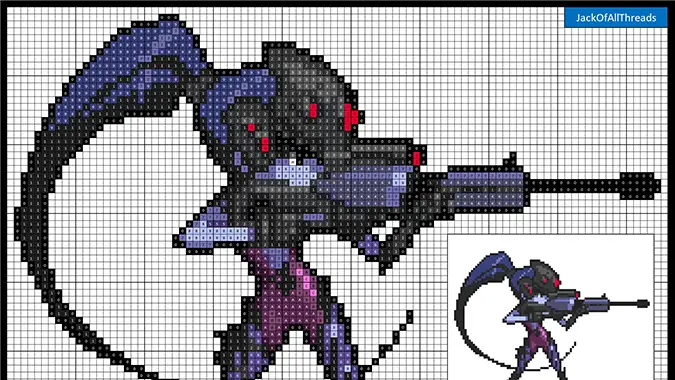 If you've ever wanted to turn one of the 29 Overwatch heroes into a craft project, be it cross-stitching or bead art, you can do that thanks to this meticulous Reddit user.
Lord Rendall posted all 29 Overwatch hero pixel sprays onto Reddit. All of the sprays are marked out in pattern form so that it's really easy to follow the shape and colors if you want to recreate them in your craft projects. They might even be helpful for people who want to make other hero skins into pixel art just for themselves. You can check out the images on the post or download all of them for free.
Overwatch isn't the first Blizzard game to encourage people to make patterns. We've even interviewed a player that made amazing Warcraft cross-stitching designs, like a "Home is where the hearth is" piece, featuring the classic hearthstone. There's also been this amazing Starcraft 2 origami logo that was posted on Reddit a while ago. While it might not be stitching patterns, Overwatch fans have also sculpted characters like Hanzo, and recreated some of the game's guns, like Tracer's Pulse Pistols. Hopefully we can add a lot of cross-stitch art to this list in the future.
It shows how iconic the character designs are as well as the hero pixel sprays, which you get for completing some rather difficult achievements in the game — there's some I still don't have after hundreds of hours of playtime. And it sounds like Lord Rendall plans to add more from the game's huge amount of sprays.
All of these sprays were cleverly created in Microsoft Excel, according to Lord Rendall. With a special tool, they were able to have the program figure out how to number and identify individual cells or pixels in the sprays to produce a workable pattern. Since Blizzard is never going to release any official patterns, I'm glad someone is doing it.