Is Jean-Baptiste Augustin Overwatch's new hero 30?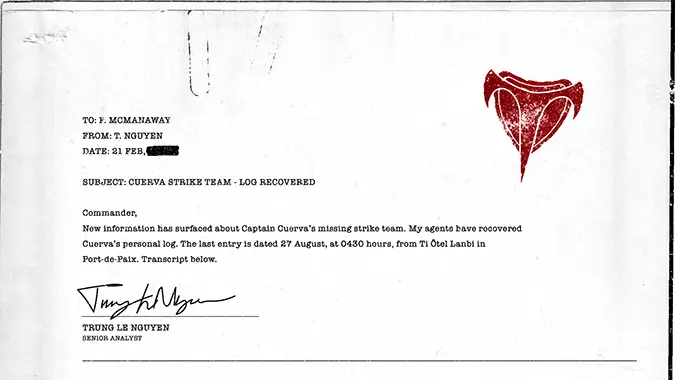 The latest Overwatch content tease is about Jean-Baptiste Augustin, a Talon medic that has escaped to Haiti and has no plans to come back. Could this be our next hero, or is this just the start of a series of hints at who it really is?
In an unprompted news post today, the official Overwatch page released a report from a Captain Cuerva, detailing their missing strike team in a personal log. The Talon captain and their crew were staying in a Haitian hotel preparing to capture or kill Augustin. Augustin had abandoned Talon and it was Cuerva's job to get him back, but before that happened, members of their strike team got captured. The log ends with Cuerva receiving their teammates' emblems in a box with an offer for them to come and find Augustin.
⚠️ Unauthorized Access Detected…

> TALON FIREWALL… Bypassed
> Accessing file… [CLASSIFIED] Communications Record of Captain Cuerva, D.

📂 🔎 https://t.co/BsA5OherBz pic.twitter.com/hqmknCo9HB

— Overwatch (@PlayOverwatch) February 21, 2019
Considering the way the log is written, it spends a lot of time detailing who Augustin is and why he's so important to Talon. "I've never known a medic to be such a good shot," Cuerva writes. This could mean he'll be a Support and Damage hybrid like Zenyatta or Ana but with maybe more mobility since the log notes that he's also adaptable.
Everything would line up in terms of content release schedules. Overwatch's Archives event usually happens around April and we got Orisa in March 2017. The big question is who the hero will actually be though, because when Brigitte was teased, the new name everyone got excited about was Emre Sarioglu — and we saw how that went.
It would also be important for this hero to push the game's roster further and specifically not be another white person (Ashe) or an animal (Wrecking Ball). Game Director Jeff Kaplan has acknowledged the lack of a black woman in the game recently, and, with games like Apex Legends launching with two of them, it would be a bad look for Overwatch not to do better than it has so far. The log takes place in Haiti, so I'm optimistic that Baptiste or whatever hero we get will change that.