The Queue: I'll keep my soul if you can promise the same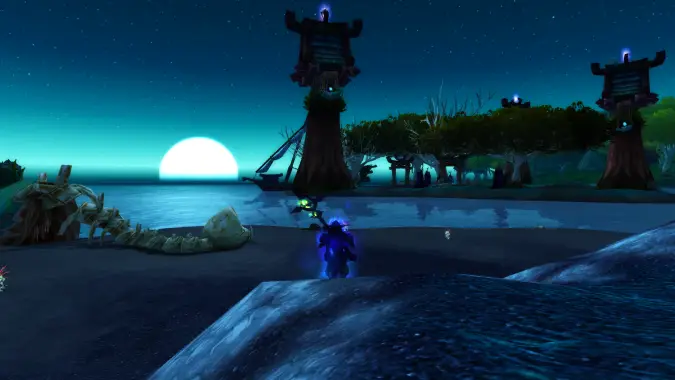 You know what day it is, y'all?! It's Tuesday. And Tuesday means it's Mitch Queue Day. So what do we do?
We Queue.
---
MISTAH JAY AND RED ASKED THE FOLLOWING:
2BE: Soulare of Andorhal vs Drustvar
2BE: Kael'thas in his prime vs. Kel'Thuzad in his prime
Drustvar wins everything because it's probably the best zone ever added to the game and nothing will top it I'd like to be immortalized there please and thank you.
As for the two KTs — Kel'Thuzad is the only "KT" I recognize, to be clear — I'm trying to think of just how strong Kael'thas actually was. Yes, he was a leader and certainly strong… but did he really delver into magic the wait Kel'Thuzad did? Anne and Rossi can probably answer this more "accurately" than I can, but I really do feel like Kel'Thuzad at his prime was far stronger and more well-versed than Kael'thas. And I promise, that has nothing to do with my own personal bias — honestly!
---
ENO CAUGHT ME RIGHT IN TIME:
QfMitch (in case you need more questions for tomorrow's Queue): What's the gloomiest place in WoW? Court of Bones on Isle of Thunder has to be up on that list… P.S.: "Outdoors" places because I'm half-expecting the Karazhan crypts to be an answer and I've heard enough of that place lol
Even though Cataclysm updated them, the Plaguelands really have some dark stuff in them. Scholomance is still as gloomy as ever, and the plague-y areas outside Stratholme aren't exactly cheery either. Actually, come to think of it, almost all of the Ghostlands is a good candidate for this one.
In the end, I guess it sort of depends what you consider gloomy. There are a lot of zones that have been destroyed or ravaged by the factions or our enemies — Ashenvale, Azshara, Loch Modan — but they don't necessarily have a "gloomy" vibe if you don't have an attachment to them. I'd also consider everything in Gilneas pretty dang gloomy, but it never occurred to me to include it until I opened a map to double check the zones — and that's because it's a zone I don't really have as much of an attachment to.
---
RAZWICK MENTIONS FUN AND ANNOYANCE AND THAT'S ALL I NEED:
QftIfMitchWantsToHaveFunAndAnnoyLizQ: What's the best way to quit a job?
I mean obviously the serious answer is respectfully and with notice, but if I can find the line between "Kiss my arse" and "Oh I'm gonna miss this place so much! /fake crying" that'd be great.
I'm not quitting like, yet, but today I realized I've hit a wall and it's not going to get un-hit so the all-out job hunt begins.
When it comes to quitting jobs, the thing about going down in a blaze of glory is that you have to be sure you'll never have the people you tell off included in any resumes or job history, and also that you're sure no future employers will somehow be in contact with them. But if you're looking for a nice in-between?
It's like with exes. It's not about breaking up and going, "YOU KNOW WHAT?! I'M GONNA BE FINE WITHOUT YOU!" — it's about going out with grace and making sure they have the means to "accidentally" stumble upon you on social media later so they can see how great you're doing. In other words, make the next job count ;P
---
HUSSKIES DOUBTS THE WISDOM OF THE DARK LADY:
Q4TQ: So Sylvanas asked Saurfang to kill Malfurion to test his loyalty and then she let Baine potentially screw her over also, in my opinion, to test what we would do? Do you think it's really wise of her to keep letting some of her very important plans get wrecked simply to satisfy her paranoid instincts?
Here's the thing: She's not "wrecking" her plans, nor are her instincts "paranoid." She has a main plan and a backup plan. In both cases, either plan gets the desired outcome, but also in both, having to use the backup plan means she can confirm her suspicions and filter out traitors.
Is Saurfang had killed Malfurion? She'd prove his loyalty and kill Malfurion. If Baine hadn't let Derek go, she would have released Derek naturally and gotten Baine to commit to her plan.
The biggest risk she's taking in all of this? Saurfang and Baine go along with her plans in order to bide their time to strike later on. And if that's what had happened? You can bet she'd be planning similar setups for the future until they finally did break.
---
LIGHTHOPE, I THINK THAT'S THE DEFINITION OF COMPROMISE:
Given that Blizzard stated that the majority wanted flight, and given that a Blizzard also said that they weren't happy that in Legion a no-flight zone came out so quickly after Pathfinder part two, what do you think about Blizzard releasing Pathfinder part two in BoA at the same time (or almost the same time) as more no-flight zones?
Is Blizzard just giving a large "Screw You" to the majority of players?
How is it a "screw you" to give the players exactly what they've been asking for? I mean, I get where you're coming from, but Blizz is compromising here. The alternative is to give players flying in new zones, which is not what Blizz wants. The other end of the spectrum is never giving players flying. We're getting flying in zones that have use but aren't the latest and greatest content. Plus, leveling zones are still "current" content for alts as you, y'know, level.
Really, I think this is the best solution to keep players happy without Blizzard sacrificing the design choices they want going into the most recent content.
---
KALCHEUS, THERE ARE OTHER WAYS TO KEEP CONTENT INTERESTING:
Q4tQ: One of the announced upcoming features is Heroic Warfronts. Is this something you plan to take part in?
I mean, depending on the rewards, probably. But is it something I'm excited for?
Eh. I guess it depends on what Blizz adds to them. Just upping the difficulty without changing mechanics isn't super interesting to me. I'll probably do them once per cycle like I do now and then ignore them. Really, my favorite PVE content right now is Mythic+.
---
SPENCER MORGAN, I UHH…. I DON'T KNOW…
Q4tQ: is Mitch a shard Mephet'ran the Deceiver? Tricking an entire star-faring people into surrendering their souls in exchange for the "immortality" of ageless metal bodies. All to enjoy a nice snack consisting of sapient soulstuff. Does seem like a Mitchy thing to do.
Uhhh….
No? Is that the right answer?
---
PIDIA WHAT EVER WOULD MAKE YOU ASK THIS?
Q4TQ: What is your favorite current dungeon meta achievement?
Hmmm… I had to go down the list here, but the one that immediately stuck out in my mind was It Belongs in a Mausoleum! because of the way you need to utilize an enemy's ability to get knocked into the air for one of the trinkets. Going through the others, I really like Bringing Hexy Back, too. I like the achievements that have you do something beyond DPSing a boss extra fast or killing an extra enemy.
That's all, y'all! Leave plenty of Qs and enjoy your day!