Off Topic: Game of Thrones fans caught Daenerys Targaryen with a Starbucks coffee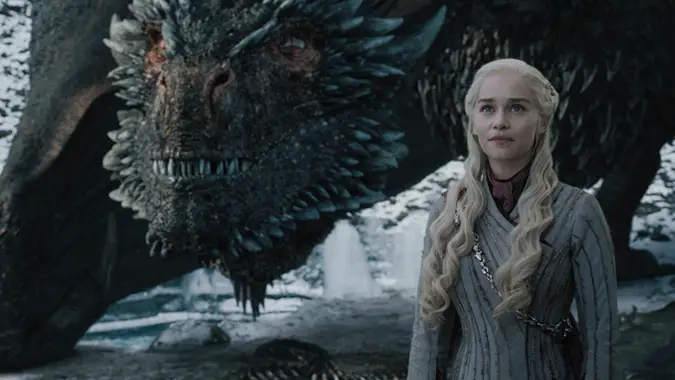 Non-spoilers for Game of Thrones: Daenerys Targaryen enjoys a hot cup of coffee while in the cold climate of Westeros.
Whether or not the set designers wanted it to be found, Daenerys was seen during last night's episode of Game of Thrones near a cup of coffee, and therefore it's now canonically hers. Everyone else had various drinks to celebrate a victorious fight, but the Dragon Queen chose a re-energizing cup of joe.
Production mistakes like these happen. Film and television show production crews are comprised of many people working to get a set ready for shooting and clearly someone forgot to move their Starbucks coffee. Chances are, there are many other mistakes in Game of Thrones that you never noticed and many more across all of the other shows you've watched. In fact, do you remember when Stannis Baratheon had a charger attached to his leg?
I checked the Starbucks cup thing for myself and yeah it's real

(I clipped this from HBO Now stream)

Production mistakes are extremely common! Besides a lot of audience probably never noticed because pic.twitter.com/p8zmDG4j8z

— gabaghoul 🎃 (@appleciderwitch) May 6, 2019
"We're sorry!" Bernie Caulfield, one of the show's executive producers told WNYC. "If that's the worst thing that they're finding, we're in good shape."
Of course everyone is making jokes about the coffee cup. Someone already made an Azerothian version of this joke featuring Nathanos' caramel macchiato. Thankfully it's a relatively unimportant mistake in an episode that has one other very big mistake that is worth way more criticism. The coffee cup should be the least of your worries when it comes to Game of Thrones.
It does leave me wondering what exactly Daenerys would have ordered though. She is a lonely woman in a strange land of people she doesn't recognize. I think it's natural that she'd order a Pumpkin Spice Latte to calm her nerves and to ready herself for the last two episodes. That means HBO is wrong; it's not herbal tea. In fact, I think she only drinks PSLs and would argue that they're coffee because "it has 'latte' right there in the name." And if we've learned anything from last night's episode, the history of a name doesn't mean a whole lot to Daenerys when it comes to love.